Senior living communities are housing facilities designed for those over 55. Many of them are designed for independent living, but the term also includes assisted living that offers personal care when needed, along with retirement communities, memory care facilities, and nursing homes where access to medical care is part of the package.
The "Aging in the United States" report commissioned by the Population Reference Bureau shows that the number of Americans aged 65 or more will double to 95 million by 2060. What is the best way to house them?
Modern seniors have many senior living options available to them.
What Does Senior Living Mean?
Senior living is an all-encompassing modern term for senior-adult housing and lifestyle options.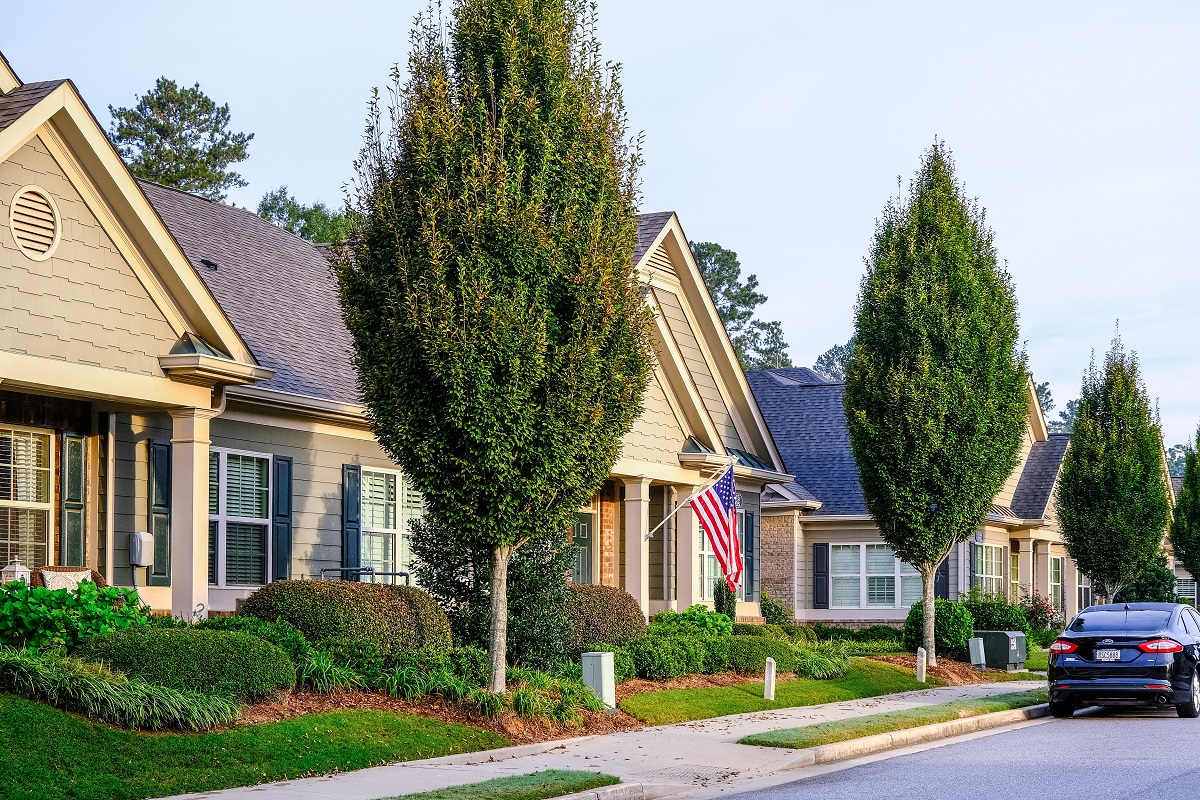 Many prefer to live independently, aging in place in the home they have lived in or in a new home or apartment with less maintenance and, ideally, lower costs. Some choose to locate to a 55+ community or a retirement community.
While able-bodied seniors can easily choose to live independently, those who need more help may choose assisted living. Those with specialized senior care needs, such as memory and Alzheimer's care, or who need more medical intervention might look toward nursing homes or skilled nursing facilities.
How Has The Boomer Generation Redefined Senior Living?
The Baby Boomers, born between 1946-1964, have changed the concept of senior living. Now of retirement age, they come to their golden years with a different mindset. Some have more financial resources, but most have enjoyed a different lifestyle than previous generations. Life is an adventure that continues till the end.
Senior living campuses are much more likely to refer to themselves as "communities" rather than "facilities" nowadays. The emphasis on the community aspect indicates a shift away from the staid and prosaic language that the "boomer" generation has shunned.
The new awareness and stress placed on the quality of life have meant that senior living communities are keen to highlight the social advantages of their services and building.
Gone are the days of older adults sitting on their own in an old chair, staring into space. Today's facilities are bright, open, well-equipped, and generously furnished with interior and exterior community areas, games facilities, swimming pools, and activity areas, including group cooking and music spaces. Senior apartments are bright and modern and feature hi-tech elements such as centralized alarm systems.
Places referred to as old folks' homes or retirement homes in the past are now considered types of senior living.
Senior Living Choices
Nowadays, when moving out of the family home, your loved ones want more than just a small place in a random neighborhood. They want easily accessible social opportunities, activity areas, and the comfort of knowing that medical care facilities are not too far away.
So, three main advantages are apparent when choosing community living instead of individual housing: community, flexibility, and security.
A report from the National Academies of Sciences, Engineering, and Medicine found that over 30 percent of adults over 45 said they were lonely, while 25 percent over 65 were designated "socially isolated." This report also stated that lonely or isolated adults were more likely to suffer from cognitive decline, heart disease, anxiety, or depression.
The National Institute on Aging reported that adults who found themselves alone after the death of a partner, retirement, or isolated due to being unable to find available transport, had an increased risk of developing health problems.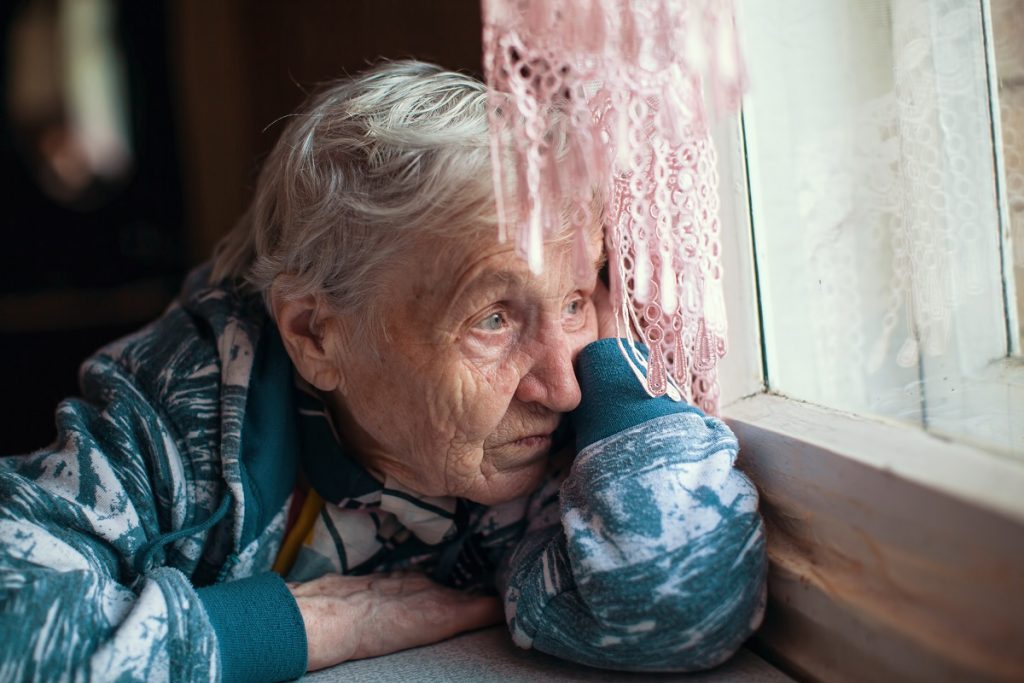 No matter whether a senior needs minimal help or extensive help managing their daily life, they can find housing options that help them balance their physical and mental needs with their social needs.
Able-bodied seniors may choose to live independently or become part of a retirement community. Those who need more help with activities of daily living (ADLs), medication management, or memory care may need an assisted living facility. A nursing home might be the best living option for those with more extensive medical needs.
Independent Senior Living
Seniors who need no help with personal care may purchase or rent apartments or homes just as anyone would. Some prefer a 55-plus community that will surround them with residents of a similar age group.
The senior community might offer an active program of events, clubs, and regular social activities, all presented in a manner catering specifically to the elderly. Residents can socialize with their neighbors on their own or join in planned activities.
Independent living satisfies the need for flexibility and socialization but does not offer the security of knowing medical help is nearby. Even if the residents are older, these communities usually provide no onsite healthcare. Someone who needs more help might need a family caregiver or call in home health aides, hospice, or personal assistant to help them.
Retirement Communities
Retirement communities suit self-sufficient older adults who do not require caregivers or help. Those who need temporary or long-term help can call home care agencies to be onsite when needed, and there is an active program of events, hobbies, and outings. If they are hospitalized and need short-term rehab in a skilled nursing facility, they will get help from Medicare to pay for that for up to 100 days before returning home.
There is more of a communal feel in a retirement community. Some communities offer single-family dwellings or apartments in a multi-residence campus for the elderly. A typical retirement community would consist of a cluster of single rooms with a private bathroom and sometimes a cooking or lounge area.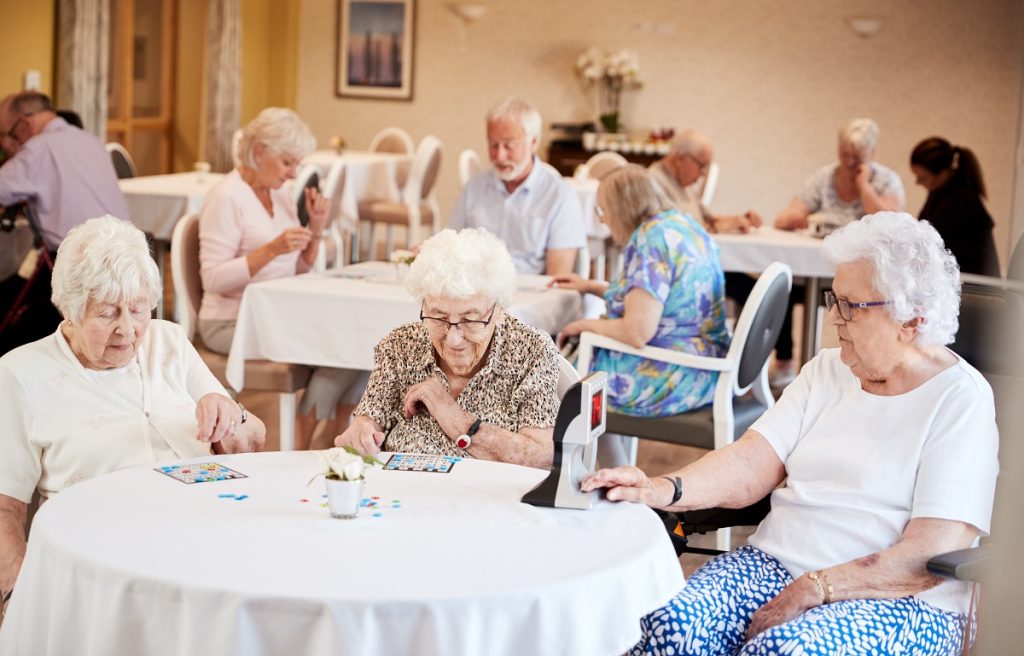 There are usually community areas for watching television, playing games, reading, and receiving visitors, and even have dining rooms (or onsite restaurants) for meals when residents don't want to eat in their units.
Some communities are for active adults. In high-end communities, onsite features typically include interior and exterior community areas, games facilities, fitness centers, swimming pools, and activity areas, including group cooking and music spaces.
The Villages in Florida is the largest active-adult community in the world. It has 70,000 homes and 300 activities and clubs, including over 50 golf courses!
Assisted Living Facilities
Independent living communities cater principally to the social needs of residents, as they can go about their daily life with little or no support. In contrast, assisted living communities are designed to allow less-able seniors to live as independently as possible while also needing help with their ADLs.
Assisted living also meets the social needs of residents as there are usually scheduled activities that residents are encouraged to participate in.
How Does Independent Senior Living Differ From Assisted Living?
Assisted and independent senior living allow all kinds of aging adults to live as independently as possible. The difference is that assisted living also provides a more comprehensive and specialized range of medical and non-medical staff members on hand to assist with daily needs.
What Are The Benefits Of Independent Living vs. Assisted Living?
Independence is sometimes you take for granted until it is in danger of being taken away, and that feeling grows more acute as you get older.
Nowadays, both independent senior living developments and assisted living place a massive emphasis on retaining that freedom. They encourage you to lead the life you want and ensure they meet independent living residents' needs by providing everything necessary to achieve that aim.
Assisted living facilities provide as much independence as the resident can safely manage.
| | | | |
| --- | --- | --- | --- |
| Factors to Consider | INDEPENDENT LIVING | RETIREMENT COMMUNITY | ASSISTED LIVING |
| Independence | Able to manage ADLs and, personal affairs | Able to manage ADLs and personal affairs | May need help with ADLs and personal affairs, so independence limited by need |
| Safety and Security | Community may be gated, but resident installs own security system | Communities may be gated or have other security measure in place | Increased security features in place for safety, especially if residents may wander off |
| Socialization Opportunities | Seniors may join in neighbor activities or socialize with neighbors on their own | Common areas for socialization, with recreation facilities often onsite and planned activities and outings | Common areas for socialization, with many planned activities and outings |
| Transportation | Residents have own transportation or may rely on local public transit | Residents have own transportation or may rely on community transit to doctors and shopping | Community transit to doctors and shopping |
| Healthcare | Non-provided | Not usually provided | Healthcare on-site, at least for emergencies |
| Cost | Market rate$1,500 to $4,000 for rents, plus utilities and other expenses | $2,522 on average, but more for luxury communities | $4,500 on average, with $3,500-10,500 range |
Safety And Security
Some senior independent communities are gated, but installing more secure locks and security systems is left to the resident. Retirement communities may be gated or require identification to enter. Individual units may have security systems.
Assisted living has added security to protect more vulnerable residents. Guests may have to sign in or out, while residents who leave may have to use a key card or key to get back in. Doors in some facilities may be locked to prevent residents from wandering.
Modern electronic emergency alert systems are pretty much standard throughout senior living facilities. Assisted living facilities may provide wearable alarm tech along with the round-the-clock medical staff.
Healthcare
Senior apartments and retirement communities may be near medical facilities but seldom have them onsite. Some communities may feature a wellness center to facilitate health and fitness but no medical clinic.
Assisted living communities usually have medical help available 24/7. In a serious health crisis, they will have you taken to a hospital.
Some seniors who can afford it choose to live in continuing care retirement communities (or life plan communities) that promote independent living but have higher-level care facilities available onsite in case of medical emergencies. A person who entered the community as an able-bodied senior might eventually need assisted living or even nursing home care – all in a single residence.
This arrangement often requires a hefty entrance fee and high monthly fees but provides for changing health.
Transportation
Many seniors still have their own vehicles, but when they no longer drive, they must find alternative transportation services. Many rely on community transit or Ubers when friends or relatives can't take them out shopping, to the doctor, or out to eat.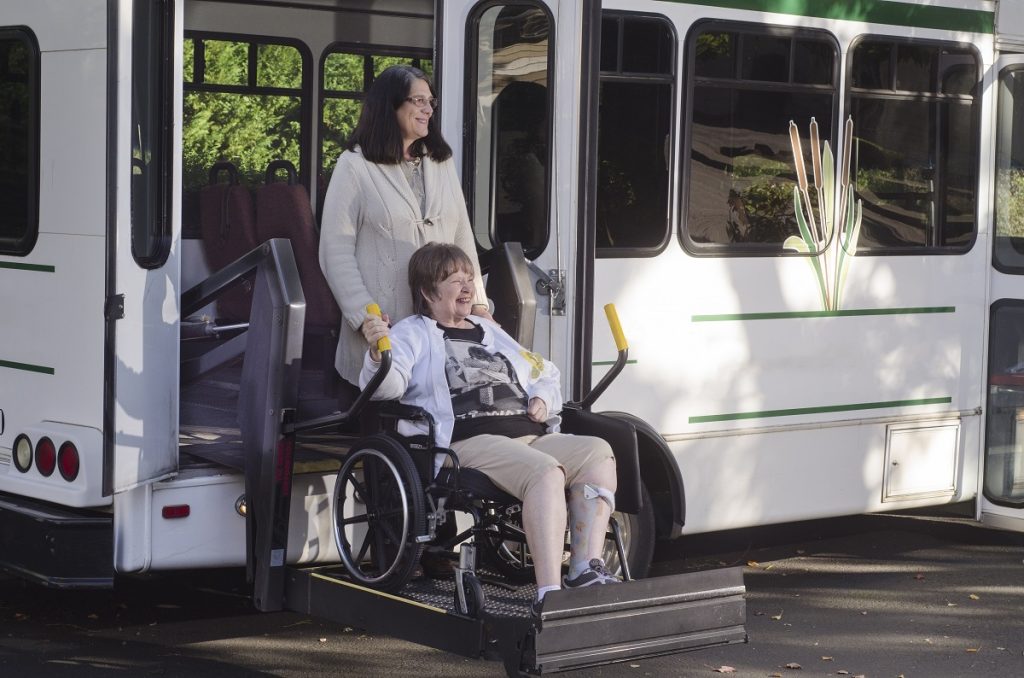 Retirement communities and assisted living often have buses to take seniors to medical appointments, shopping, or outings.
Socializing
The best part of retaining independence is the flexibility to plan your own schedule, including quality time with friends and family. You can be as social or anti-social as you want; there is no pressure to mix when you don't want to – you are totally in charge of your own destiny.
Especially in a retirement community, your apartment is within easy walking distance of your friends. You can choose to have your meals in the same dining area as fellow residents and participate in group activities. There are usually plenty of activities to enjoy.
In assisted living, meals are often at a set time. Changes in philosophy encourage menus that offer choices, extended times when meals are served, and dining halls are more like restaurants. However, many retirement communities and assisted living facilities offer each meal within a timeframe, so, for example, someone can choose to eat breakfast at 9 rather than 8.
What Are The Costs of Senior Living Vs Assisted Living?
How do retirement living costs in independent senior living communities vs. assisted living or other choices?
Senior apartments in the community are often market value, and the resident is responsible for rent and other living expenses, including food and utilities. Costs for housekeeping, laundry services, or health care aides, if needed, are extra.
The monthly cost of care at an independent living community can range from $1,500 to $4,000. More services are available for a modest fee, such as meals, housekeeping, or laundry, may be included or are available for a modest fee. Living in a community may save a senior money.
Living costs in assisted living facilities are between $3,500 and $10,500 a month, with a national average of nearly $4,500 to cover the cost of care that residents often need.
Pricing depends on the amenities offered, what is included in the price, rents and housing values, and the cost of living in a particular area.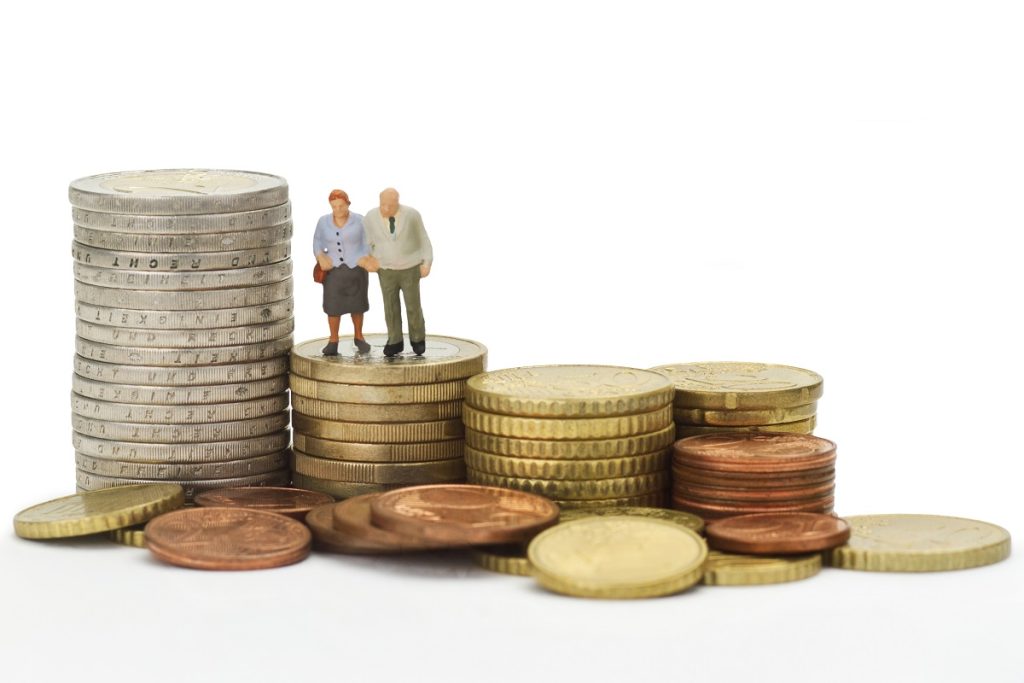 No matter how seniors choose to live, they assume the costs with savings, pensions, or Social Security. Those who qualify for Medicaid may be entitled to some in-home care services but not room and board – even in assisted living. However, some may be able to get into subsidized senior housing, which will lower their costs.
Seniors who need the custodial care of a nursing facility may rely on Medicaid or long-term care insurance if they cannot pay out of pocket.