Assisted living might be a good housing option when a person needs help with the activities of daily living (ADLs). Someone who is able to get around with a mobility aid but needs some assistance may benefit from this type of housing, where help is available for many tasks.
Although most senior citizens prefer the privacy of independent living for as long as possible, staying in the family home indefinitely is not always an option. Family members have to weigh the level of care and support loved ones require while determining what kind of housing options are best. These decisions are very personal, and what works well for one person's aging parents may not be the best solution for someone else.
How do you decide when someone needs to consider an assisted living facility or skilled nursing home? Weighing living options is not always black and white, but there are things to consider to make the decision easier.
What Are The Alternatives For Senior Living?
Looking into alternatives for senior living will help family members realize there are different levels of support for any care need one might have. What kind of help does your loved one need? Occasional assistance getting dressed and eating? All day and all night toileting? Help transferring in and out of beds and chairs? Or just some light housekeeping, laundry, and shopping help.
Home Care
If the goal is to stay in the family home as long as possible, some people can achieve this with family caregivers helping the elder to perform necessary tasks. If the level of support or time commitment is too much for family, they can hire home care employees to perform ADLs (activities of daily living) as well as light housekeeping, cooking, etc.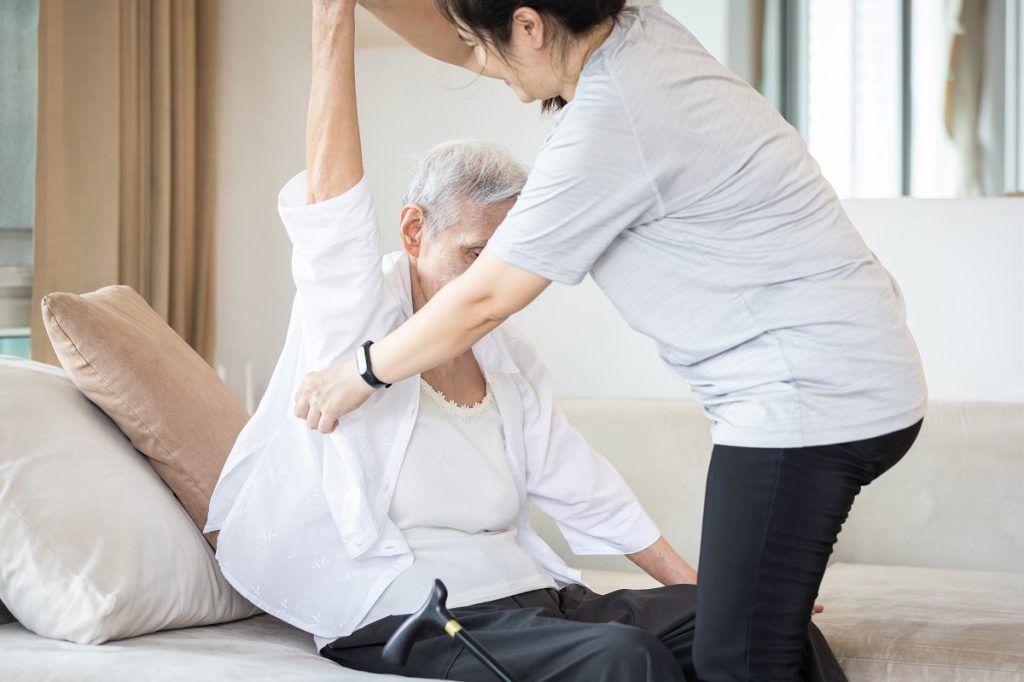 Some people choose to live in senior living communities. In these, senior citizens live in apartments or condominiums. These communities foster independence, yet the residents can have home care aides, cleaning services, or other helpers come by.
Assisted Living
When staying in the home no longer is an option, many opt for assisted living facilities where the senior can have the independence of an apartment with the support of care providers. There are usually different levels of care to meet the needs of various residents. Some people need minimal assistance, while others require much more support.
People can often choose between eating in their room, cooking in their unit, or eating in a dining room. Assisted living communities can take a lot of the worry from families who want the older adults in their lives to be happy and healthy.
Nursing Homes
Nursing homes are care communities for people who require full-time assistance. Skilled nursing care professionals help manage health issues and concerns. People in nursing homes need medical care, in addition to often requiring help with ADLs. Depending on the situation, nursing homes can offer both short-term and long-term care.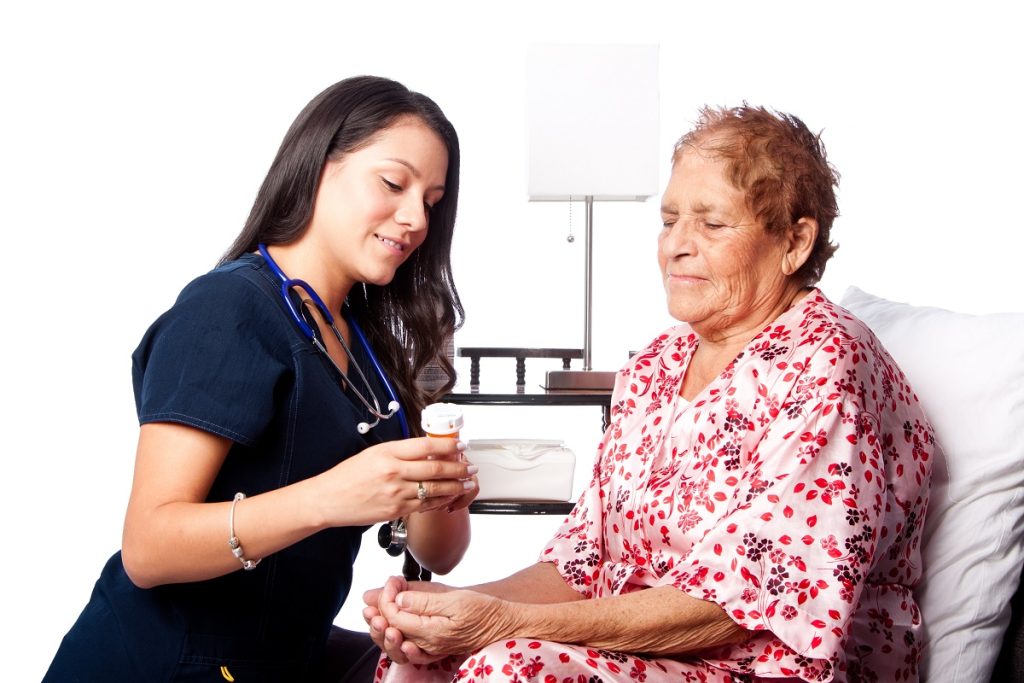 What Are The Reasons To Move To Assisted Living?
Are you wondering if an assisted living facility is a good decision for you or your loved one? Let's look at some reasons to consider assisted living. Do you or your loved one:
Not getting proper nutrition?
Feel lonely a lot?
Forget to take medications, eat or do other things regularly?
Need assistance with ADLs?
Struggle to maintain your home and yard?
Wonder how to get to appointments?
Worry about falling and not being found?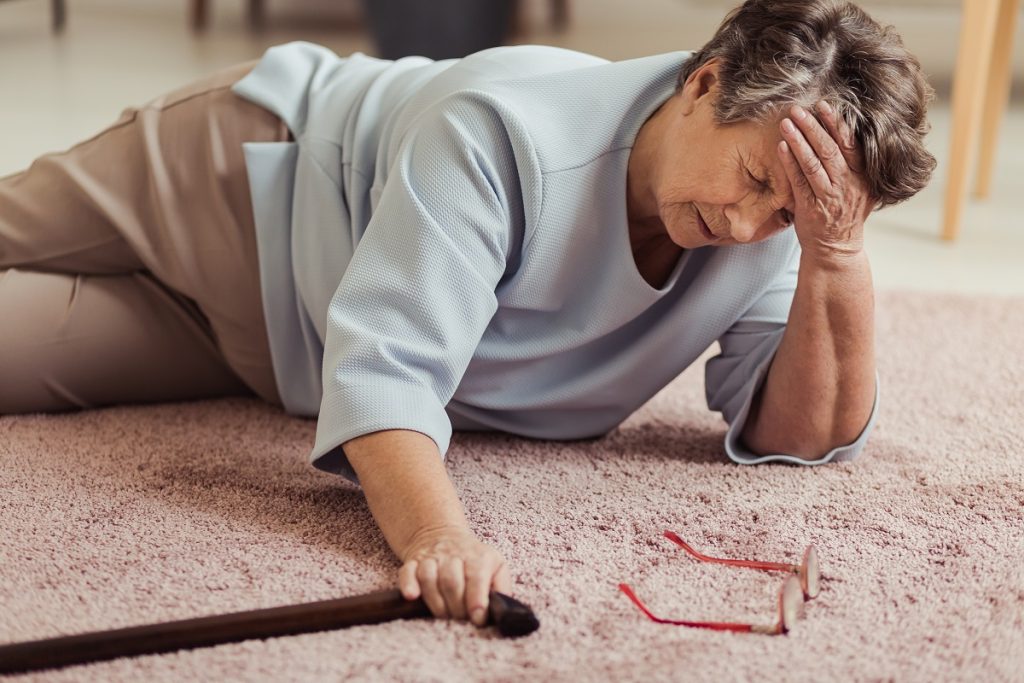 What Are Some Of The Benefits Of Assisted Living?
Assistance: Regardless of what you need assistance with, assisted living facilities help the elderly maintain a high quality of life and protect their personal well-being.
Ease: When living on your own, there are many things to think about, such as maintaining a lawn, taking care of the home, etc. In an assisted living facility, these concerns are no longer.
Peace of Mind: Loved ones often worry a great deal about a senior's worsening balance, remembering to take medications, and nutrition, among other things. Assisted living facilities can give friends and family members peace of mind as skilled staff members are on hand to provide care and support.
Personal Care: Assisted living is an excellent option for those who struggle with completing ADLs.
Safety: Safety procedures and equipment are in place, so you can worry less about falling, balance issues, and other safety concerns when a loved one is in this type of care facility.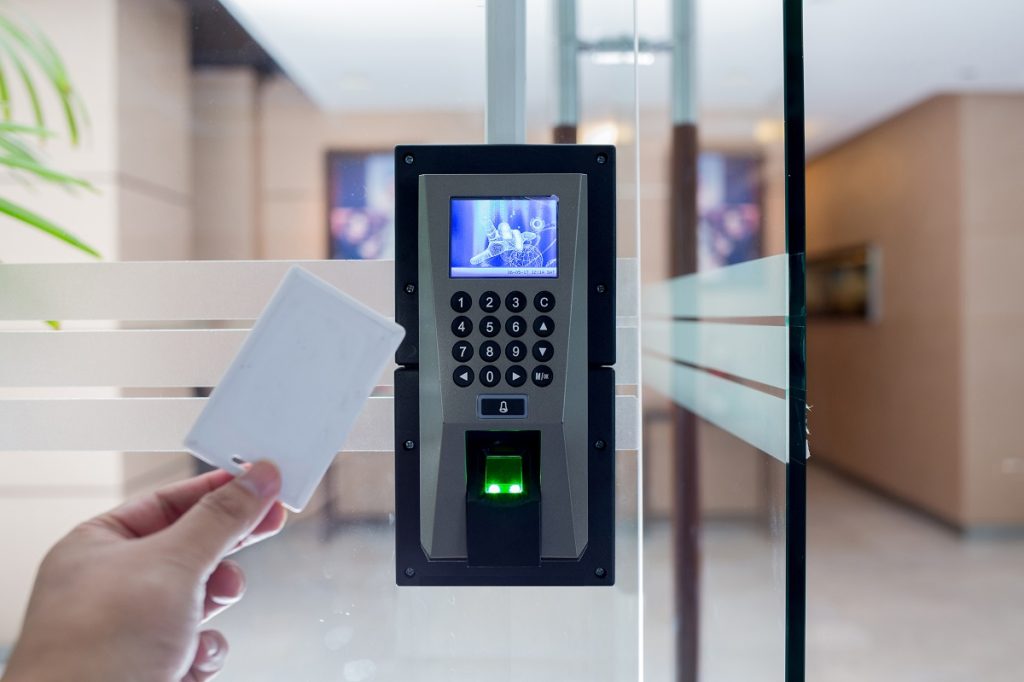 Socialization: Loneliness is a genuine struggle for many elderly people. Senior facilities provide social opportunities for the elderly.
Transportation: The number one cited problem the elderly struggle with is transportation. Being in assisted living can ensure that at least some of those concerns are no longer there. These places often have some on-site care provided, and many offer shuttles to appointments.
At What Age Do Most People Move To Assisted Living?
Although the average age of a person living in assisted living is 87 years old, the average age for making that transition is younger. Most people find themselves looking for options such as this one when they are somewhere between 75 and 85 years of age.
7% of residents are under the age of 65
11% range between 65 and 74
30% of residents are between 75 and 84
52% of residents are 85 or older
The demographics for younger-than-average age groups are increasing as the recently retired come for socialization. Assisted living "facilities" work hard to be "communities" where residents enjoy shared meals, activities, exercise classes, and opportunities to meet new friends in their age group. As they age and need more help with ADLs, they can still get the help they need.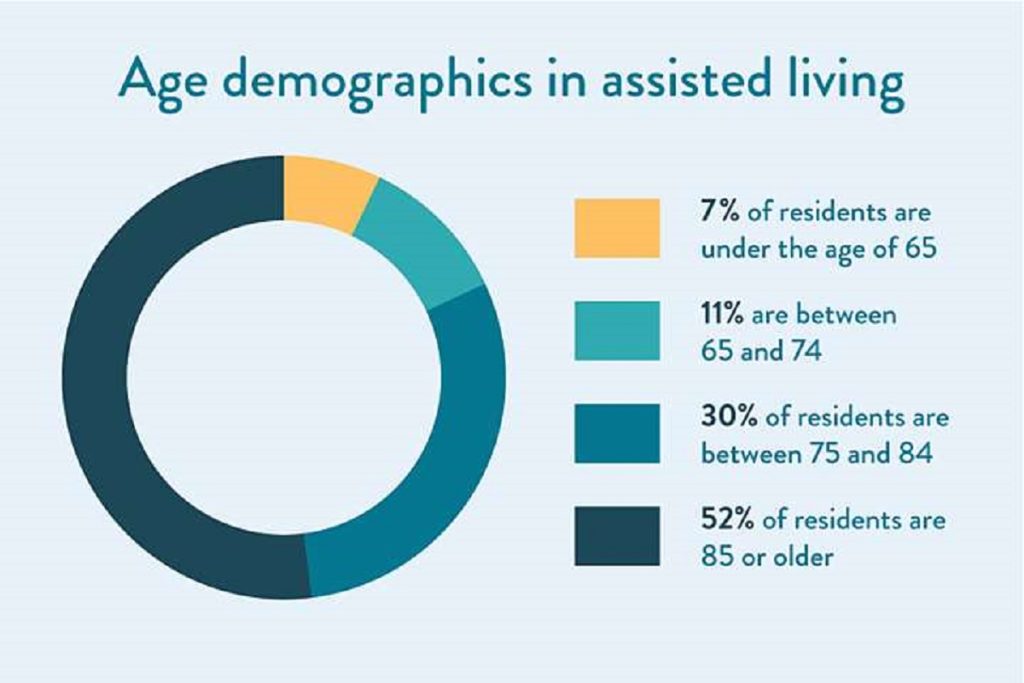 Is Assisted Living A Permanent Housing Choice?
Assisted living can be a permanent housing choice for some people, while others move in for a short period of time. Some assisted living facilities have a "no strings" trial period so that potential residents can find out if this type of living arrangement might work for them.
There is also something called short-stay assisted living for people who do not require this type of arrangement on a permanent basis. Most residents, however, make this decision and live there until they are unable to maintain the independence required to be there. They then transition to a nursing home.
The National Center for Assisted Living says that 59% of all assisted living residents will eventually move to a skilled nursing facility after a two to three-year stay. Their stay there averages 835 days, according to the National Care Planning Council.
Assisted living is usually a pay-by-the-month arrangement, just like any lease. Those who can't pay usually have to leave.
How Can You Find Assisted Living In Your Area?
Assisted living communities advertise for new residents, but there are other resources to help you and your family find the best place.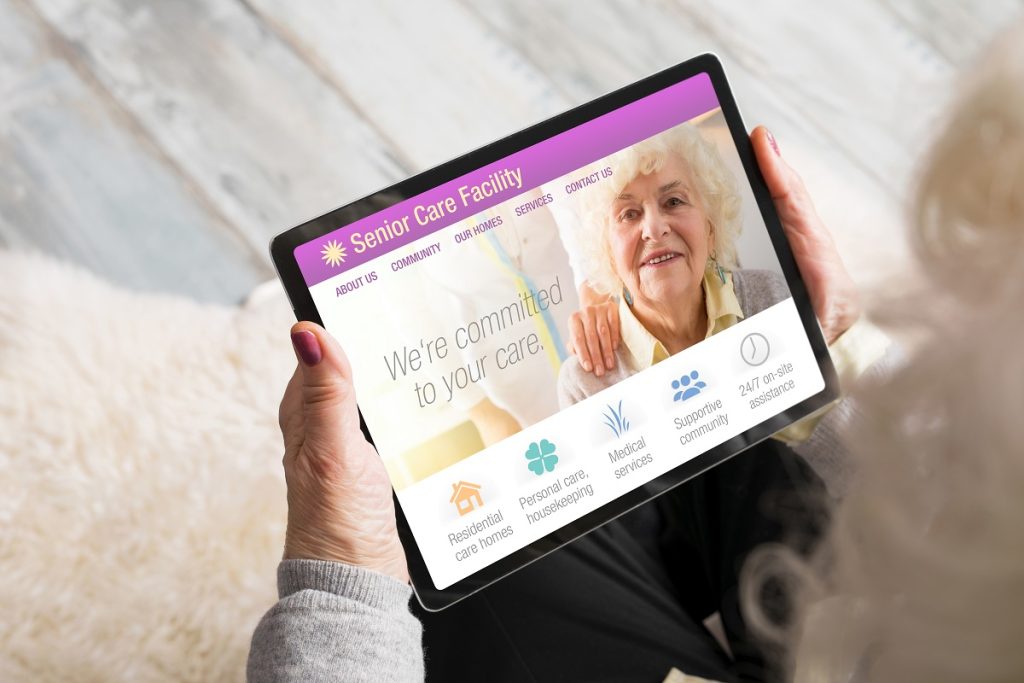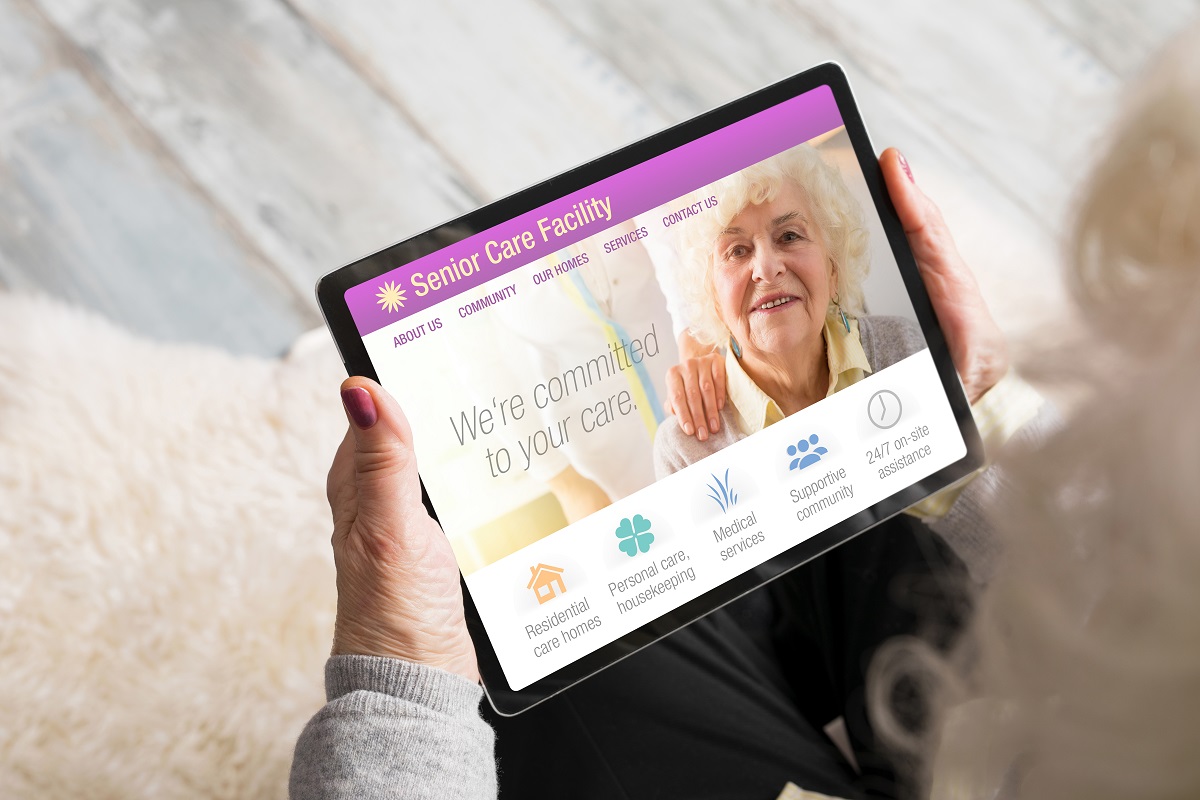 There are different ways to find assisted living or other housing options that will work well for your loved one and family. Many communities have an elderly services department of social services. These are social workers who are trained specifically to aid older adults.
Some areas also have senior living advisors who meet with potential residents and their families and help them find a facility that will provide the best fit. Senior living advisors do not work for a specific residency facility, so they have no monetary incentive to pair clients with particular places. This ensures that the recommendations are made in an unbiased manner. The facilities pay the counselors, so the service is free to families.
You can also rely on word of mouth and simply ask around. Individuals can personally tour facilities they think they might be interested in to find the best fit for them.
How Much Does Assisted Living Cost?
In the United States, the average cost of assisted living per month is $4,500. Of course, many different factors determine the cost.
The area where the facility is located is a major one. Some cities, states, and regions are more expensive no matter what type of housing you are looking at.
The amenities also impact the cost. If the facility has an Olympic-sized indoor pool, sports facilities, spas, multiple dining options, on-site health care, and other attractive options, the charges will reflect the offerings.
The type of care options available within the facility also determines the cost. If you are fairly independent and do not need much assistance, you will pay less than if you need a lot of support. Also, the amenities of the facility will be considered in the price. Places with on-site restaurants, for example, can drive costs up.
Because of the cost, assisted living is not an option for many seniors. Neither Medicaid nor Medicaid pay for long-term care in assisted living. Many seniors with little savings or other resources apply for Medicaid, and many go to nursing homes when they need ongoing help with ADLs and health issues to receive full coverage.
Some seniors may pay for assisted living with reverse mortgages, life insurance, or loans. Families oftenturn to services such as ElderLife Financial for assistance in arranging funding.
When choosing a facility, keep in mind the things that are important to you and your family. If you are just looking for a clean, safe living space with support to keep your loved one safe, you may not need a place with all the bells and whistles that could be essential to someone else.