Both nursing homes and assisted living facilities provide room, board, and various types of care to those who need help with Activities of Daily Living (ADLs), so the cost is high for either service. Because those in a nursing home need more care and medical treatments, nursing homes are the more costly option.
When a person cannot perform the activities of daily living (ADLs), they may need either a devoted caretaker or placement in an assisted living facility or a nursing home. What is the best and most economical solution?
Assisted living facilities (or ALFs) provide different levels of custodial care, which might include assistance with ADLs (activities of daily living), but still give the residents considerable independence.
Nursing home levels of care usually involve a higher level of skilled nursing, and specialized and intensive medical services might become necessary.
A person in a senior living community or living at home may require a family or paid caretaker. Home healthcare visits might be essential if the person needing treatment remains in a residential environment. If the caretakers need help during the day, adult day care might be a solution.
What Is A Nursing Home?
Nursing homes provide 24/7 care services to infirm elderly residents. They also offer more specialized medical services to older adults, like memory care, including Alzheimer's. Someone in a nursing home needs help with several ADLs, which include toileting, personal hygiene, dressing, bathing, eating, and walking.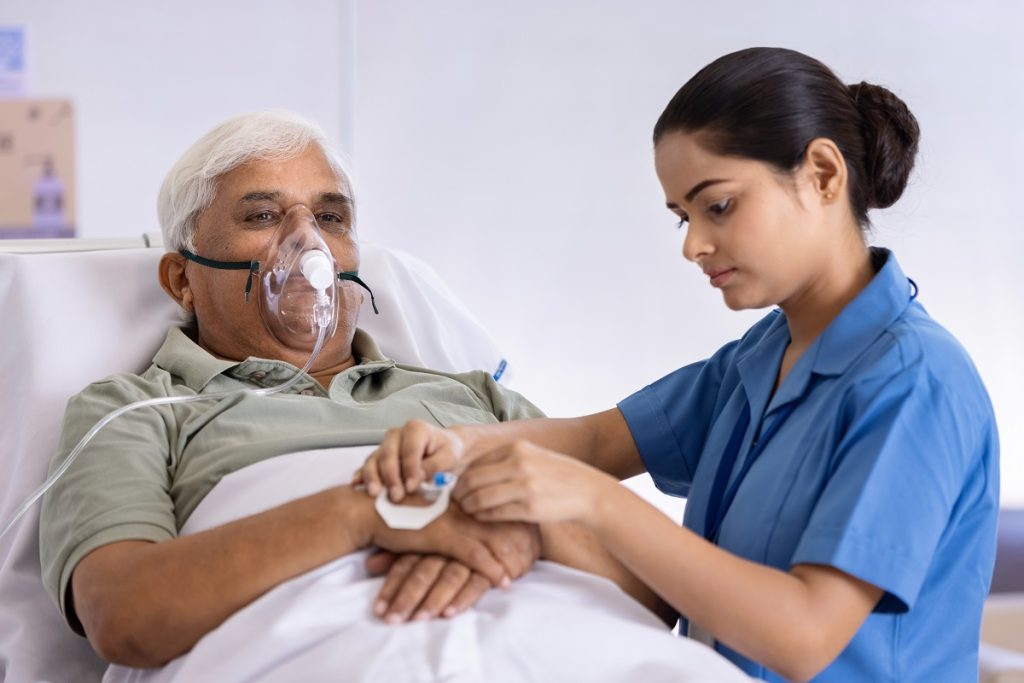 A nursing home tends to have an institutional feel. Residents live in private or semi-private rooms with ensuite bathrooms but may be taken to a shower room for bathing. They may eat in a dining room or take their meals in their rooms.
Although nursing homes are sometimes called "skilled nursing facilities," this term is also used for short-term care units providing post-illness or injury rehabilitation.
What Is An Assisted Living Facility?
Assisted senior living communities are similar to independent living facilities with additional on-site care options and healthcare services. For those who need help with ADLs, they have staff to help with everyday physical tasks that cause problems for some older adults. These services allow your loved one to maintain a degree of independence even if they cannot function without help.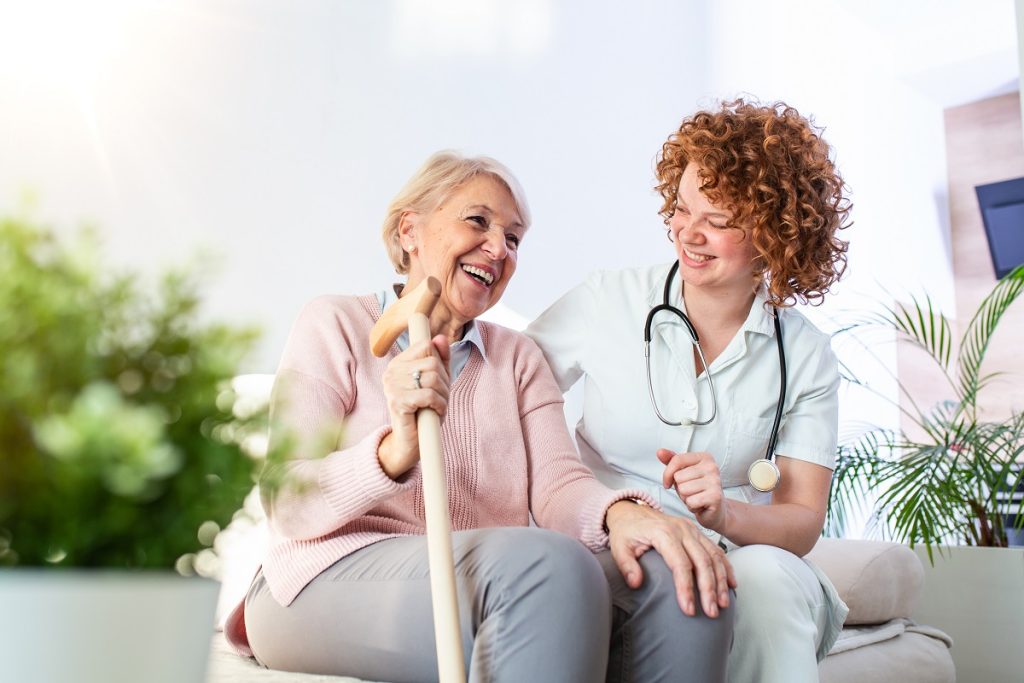 Most assisted living facilities use a "pay what you need" method – residents pay for any required services on top of the base cost. This arrangement is suitable for those who are still non-disabled but need some help while not requiring specialized medical care. As their healthcare needs increase, they simply add the relevant services on an ad-hoc basis.
A few assisted senior living communities offer more niche medical services, like speech therapy or memory care. Family members are integral parts of an assisted living care program.
What Type Of Care Does Your Loved One Need?
Your loved one may need help with one or more ADLs. What is also a concern is how they perform instrumental activities of daily living (IADLs).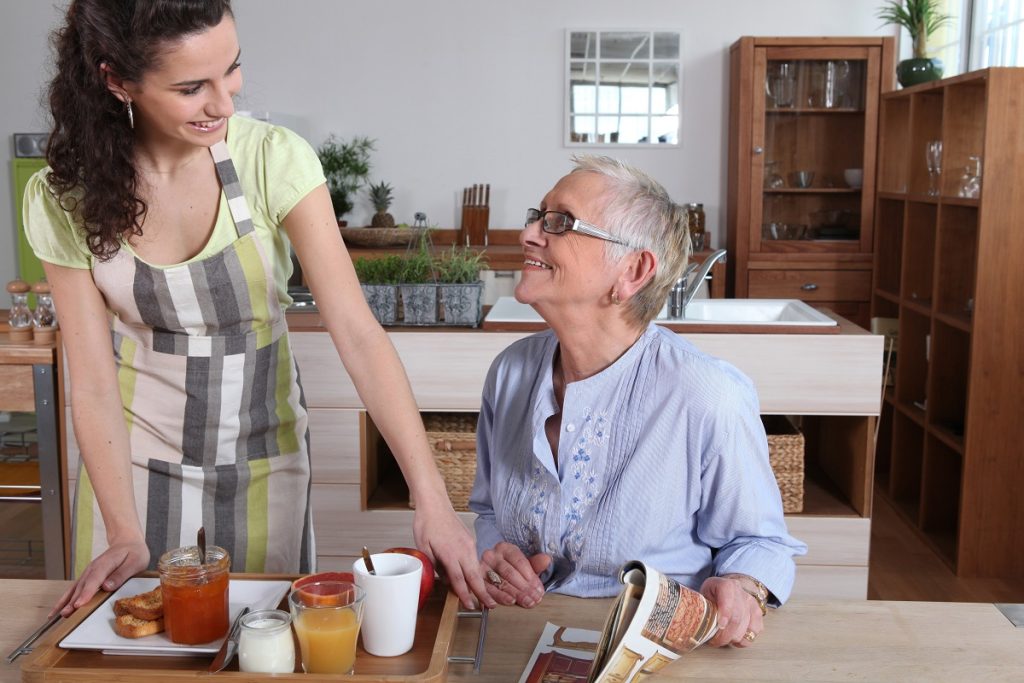 These include:
Cleaning and housekeeping, including maintenance and other home-care chores
Doing laundry
Managing their money
Managing medications and taking medicines as directed
Preparing meals
Shopping for groceries and other necessities
Transportation, including changing residences and moving
Using communication devices, including the telephone or computer
Most IADLs can be handled with a help of a family caretaker or personal assistant. While preparing meals and managing medications are daily activities, most other tasks can be handled when needed.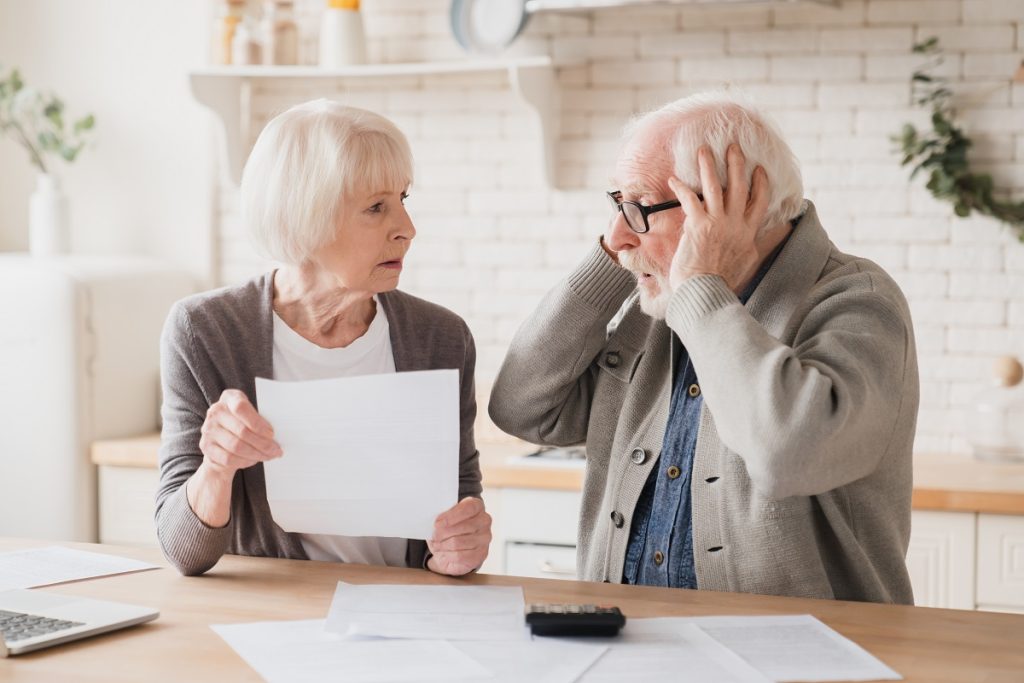 An inability to perform IADLs without help may indicate that a senior needs to move or needs a caretaker, but the inability to manage ADLs without help may require a higher level of care.
Professionals use scales such as the Functional Independence Measure (FIM) or the Katz Index of Independence in Activities of Daily Living to assess 18 items that measure motor and cognitive. The lower the score, the more likely it is that the person needs more care.
Family members who notice that their parent or loved one is losing function can suggest and initiate a move to assisted living, but a physician must sign off on the need for nursing home care. Those who move to specialized units in assisted living need a doctor's sign-off as well.
How Is A Nursing Home Different From Assisted Living?
Nursing Homes
Nursing homes provide 24/7 long-term care with full-time caregiver supervision, personal care, and three meals daily, among other things. Rehabilitation services, such as speech, occupational and physical therapy, are also available. Those who live there have a medical condition that needs ongoing care.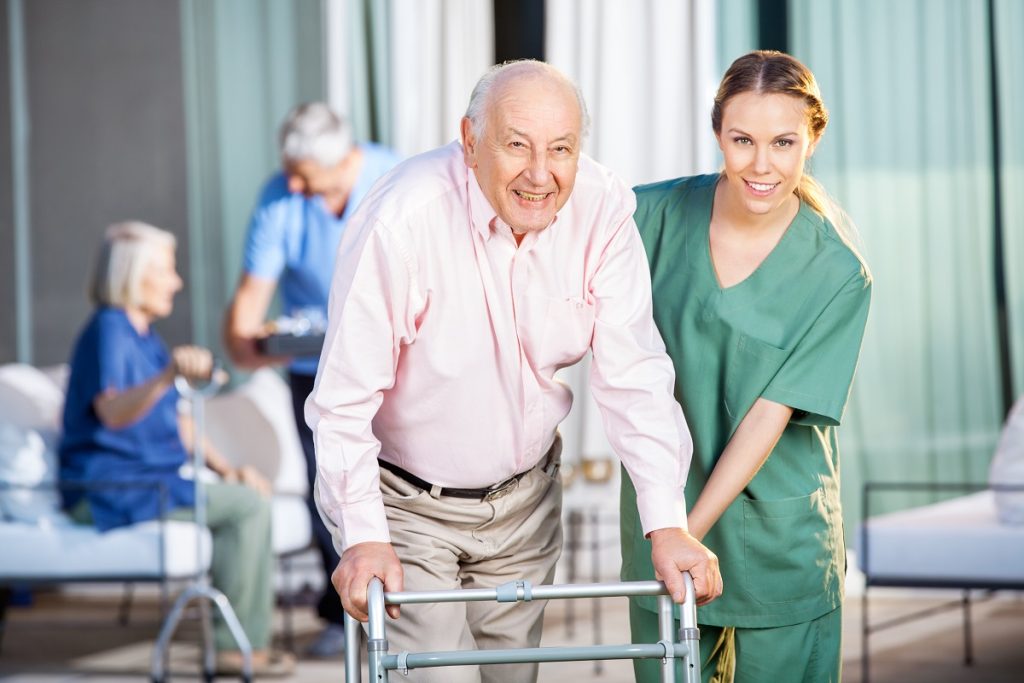 Residents are normally in private rooms or semi-private rooms with few facilities. Facility housekeeping keeps the room clean. Laundry is included.
The on-site provision of specialized care facilities is a key part of nursing home care. Residents with severe disabilities or medical conditions like respiratory problems can receive treatment without moving from the community.
Nursing home residents often complain of slow response times, indifferent food, and social isolation. Most nursing homes also offer activities that some residents choose to join. Especially if they serve a large percentage of Medicaid recipients, these facilities have fewer amenities.
Assisted Living Facilities
Assisted living communities offer non-medical senior care such as ADLs like toileting and dressing. allowing residents to maintain a decent amount of independence – as much as they can handle. Many people move there for the social aspects as well as assistance.
Housing options are usually medium-sized private rooms or apartments. Residents can go to a dining room for meals and participate in activities. Units often have kitchenettes for light cooking.
The residents themselves, their families, nurses, and a primary care provider notify staff when they need medical care. Some facilities may have on-site clinics that residents pay for out of pocket or with insurance.
Most assisted living developments will have on-site fitness centers and swimming pools. If they don't also feature more specialized amenities like dentists, beauty salons, or chapels, they will probably be located close by.The facility may transport seniors there, as well as to medical appointments. The more costly a facility is, the more amenities it is likely to have.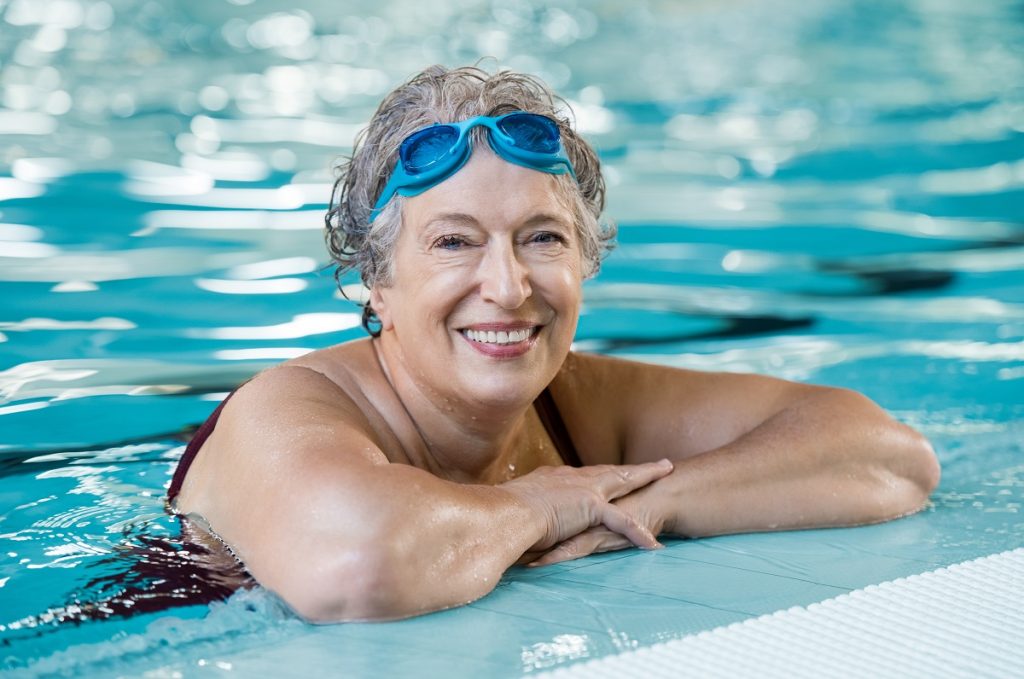 Well-attended and busy social programs keep older adults stimulated and motivated, slowing mental deterioration in the process. Recreational activities, on-site art, and educational classes are regular features at many assisted living facilities. Outings and organized holidays are also a part of many communities' activities.
Residents may have several hours per week of physical and cognitive therapy. Some more specialized units may include memory care.
Services such as housekeeping and laundry may be extra.
| | |
| --- | --- |
| ASSISTED LIVING | NURSING HOME |
| Customized help with ADLs is available for those who need it | All residents need help with ADLs |
| Care on call | 24/7 care |
| Custodial care | Custodial and medical care |
| Safety measures such as grab bars, rails, wide doorway, room to turn a wheelchair, locked doors or keycard entrance | Safety measures such as grab bars, rails, wide doorway, room to turn a wheelchair, locked doors or keycard entrance |
| Robust activity schedule | Some activities |
| Room or apartment with full ensuite | Private or semi-private room with toilet and sink with common shower room |
| Dining room for meals, but units may have kitchenettes to cook meals | Dining room or meals in room |
| Residents obtain own medical treatment. Perhaps at onsite clinics at market price or with health aides | Provide regular medical treatments |
| May have hair salons, pools, fitness centers, and other amenities | Fewer frills |
| Costs not reimbursed by Medicare or Medicaid, though waivers might be available for personal care or nursing services | Costs not reimbursed by Medicare, but paid by Medicaid |
| Costs average $4,500 per month, but costs for extra help and memory care are higher | Costs average $7,908 per month for a semi-private room and $9,034 for a semi-private room |
How Much Do Most Nursing Home Vs Assisted Living Costs Vary?
According to the Cost of Care survey on Genworth.com, national averages for nursing homes and assisted living facilities are as follows:
Nursing Home Facility
The national average cost of a semi-private room (monthly rate) is $7,908.
The national average cost of a private room (monthly rate) is $9,034.
Assisted Living
The national average cost of adult day care (monthly rate) is $1,690.
The national average cost of assisted living (monthly rate, private, one bedroom) is $4,500.
Adult Day Care
Some seniors who live at home may go to adult day care or adult health day care during the day. Both offer social activities, meals, recreation, and some health-related services. Adult day health care offers more intensive health, therapeutic, and social services for individuals with those with serious medical conditions. Personnel will help with eating and toileting if necessary.
These services can keep a senior out of assisted living or a nursing home.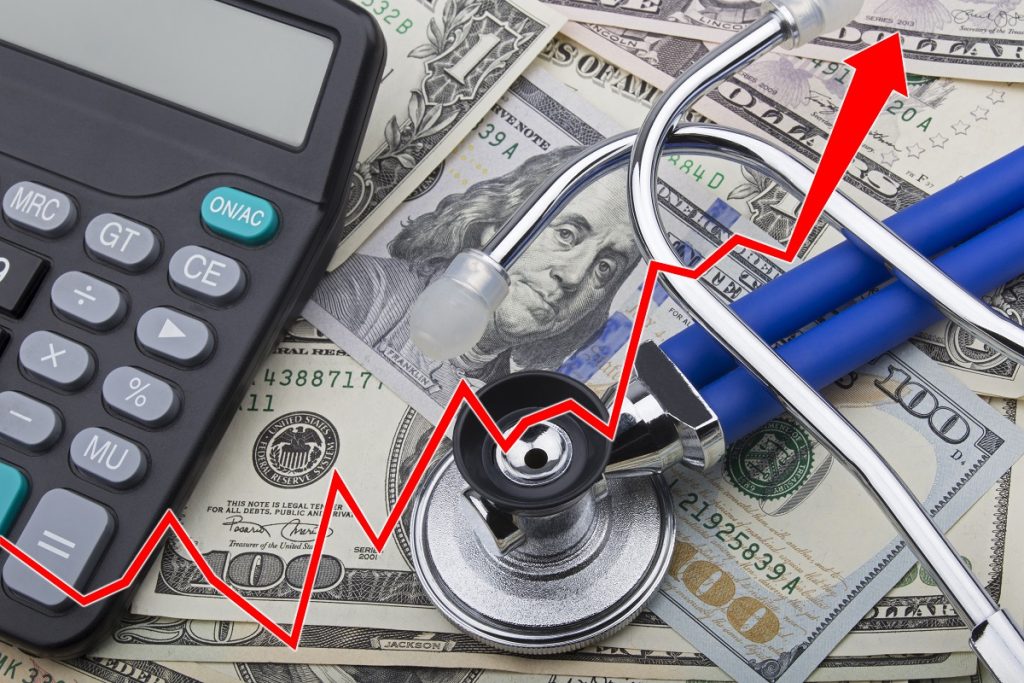 What Accounts For The Costs?
Nursing home costs are so much higher because they provide round-the-clock residential care for their occupants. Some also offer nursing or specialist care.
An estimated 62% of residents are eligible to pay for nursing home care with Medicaid. The dollar value of that care was over $50 billion; in contrast, Medicare spent about $38 billion.
How Do Costs Vary By State?
Genworth can also give us an idea of the variations of monthly costs by state.
Assisted Living
Assisted living facility (monthly rate, private, one bedroom): FL – $4,000; IL – $4,488; NY – $5,750; WA – $3,211
Adult day health care (monthly rate): FL – $1,517; IL – $1,885; NY – $1,950; WA – $2,600
Nursing Home Facility
Semi-private room ((monthly rate)): FL – $8,654; IL – $6,266; NY – $12,741; WA – $9,232
Private room (monthly rate)): FL – $9,627; IL – $7,156; NY – $13,231; WA – $10,205
COSTS OF ELDERLY CARE BY STATE Vs. NATIONAL AVERAGES
| | | | | | |
| --- | --- | --- | --- | --- | --- |
| SERVICE | National | FL | IL | NY | WA |
| Assisted Living | $4,500 | $4,000 | $4,488 | $5,750 | $3,211 |
| Adult Health Day Care | $1,690 | $1,517 | $1,885 | $1,950 | $2,600 |
| Nursing Home – Private | $9,034 | $9,612 | $7,156 | $13,231 | $10,205 |
| Nursing Home – Semi-Private | $7,908 | $8,654 | $6,266 | $12,741 | $9,232 |