Watches for seniors are no longer just for telling time as they use them to track health, fitness, and sleep, make calls, detect, and act as medical alert device in the case of falls or illness. Buying the right watch that pairs with your Apple or Android phone is important to get the most out of the features.
Wondering if a smartwatch is a good purchase for your loved one?
Smartwatches aren't just fun gadgets. They often haveuseful features such as location tracking and wellness tracking and programs. Many watches have long battery life and are often water-resistant so they will be useful in many circumstances seniors find themselves in.
No matter what your budget is for yourself or a senior family member, there is probably a smartwatch that will fit into it and help serve the needs of your family.
Do Seniors Need A Smartwatch?
Do any of us really need a smartwatch? Probably not, but there are many awesome things that a smartwatch can do for you that a regular old Timex cannot. Having a wearable and fashionable alert button in the event of an emergency is but one perk to owning a smartwatch.
Smartwatches come with a touchscreen that makes it easy to access programs, and many have a zoom-in feature to make them easier for seniors to use. They often connect to apps visible on a phone or computer.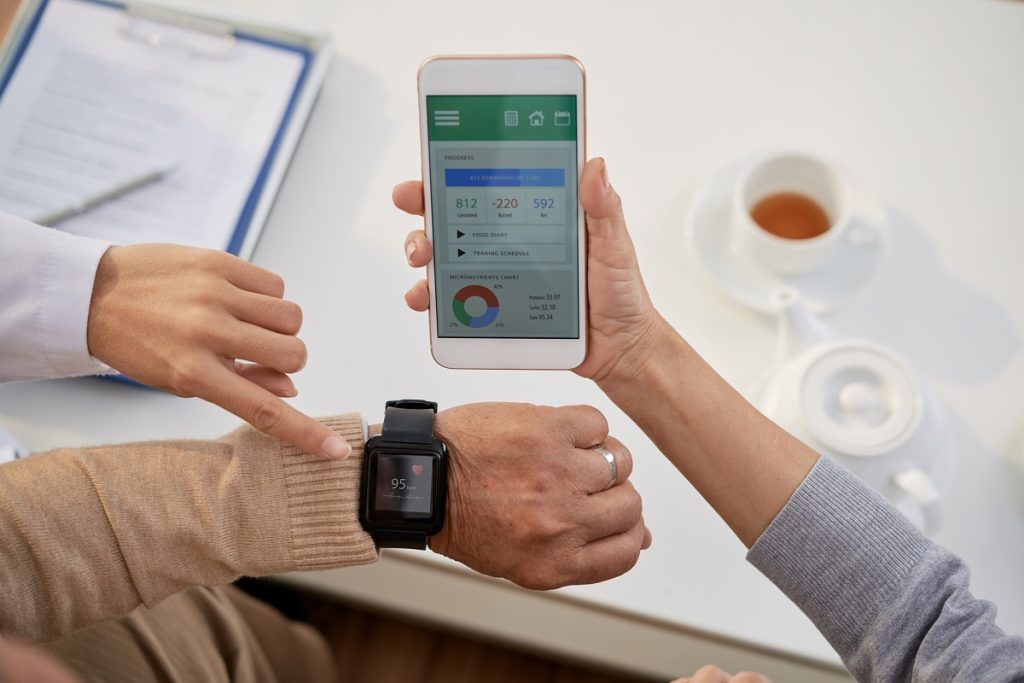 Many caregivers find that they enjoy the peace of mind that comes with giving the senior citizen in their life a smartwatch. Caregivers and medical personnel can review smartwatch figures to see data on blood pressure, heart rate, sleep patterns, and other data,
What Watch Can Connect To A Smartphone?
Smartwatches connect to your Apple or Android phone. Each brand of smartphone has its own operating system that connects to the Apple iOs or the Android system via Bluetooth.
If you prefer Apple products, there are many generations of AppleWatches that connect to your iPhone, while if you are an Android user, you can find models by Samsung, Google Pixels, Gamin, Fitbit, and more. To get the most out of your watch, select one with the same system as your phone.
Mostly known as a fitness watch, Garmin makes a watch that also connects to your phone and has all of the bells and whistles of the above-mentioned. FitBits are watches that started out as simple activity trackers and have evolved into functional, beautiful products such as the Fitbit Versa. Google bought Fitbit, and now offer two lines of trackers and watches. The Google Pixel is to designed to directly compete with the iPhone.
When searching for your smartwatch, you need to determine exactly what you want it to accomplish for you.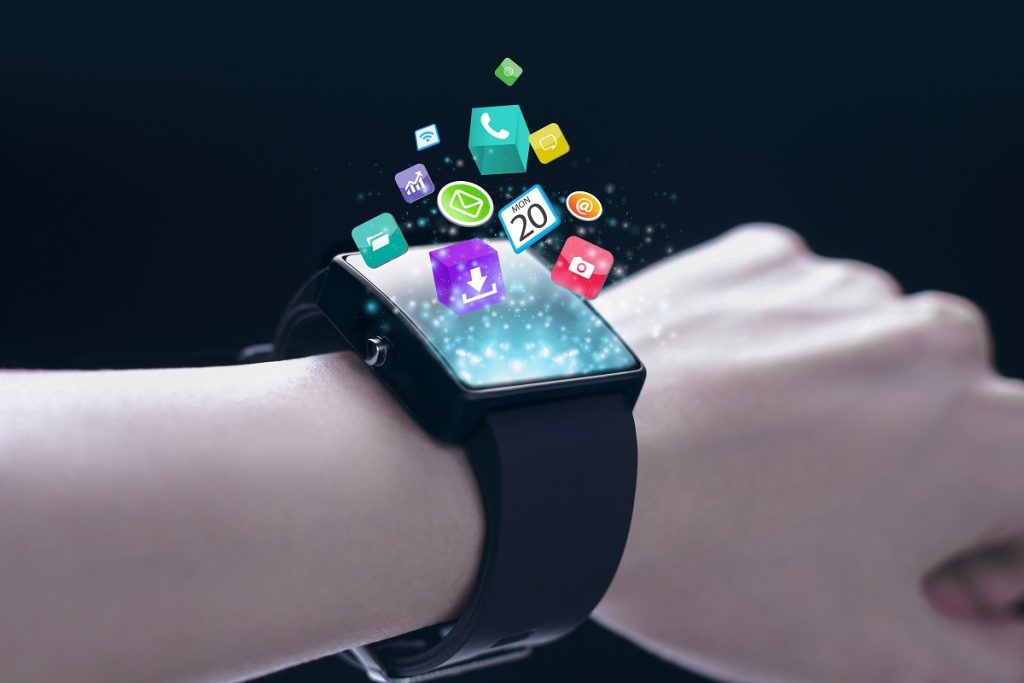 What Are The Benefits Of A Smartwatch For Seniors?
1. Fall Detection:
The automatic fall detection device is an excellent feature for senior citizens. With this feature, when a fall is detected, the watch will first alert you, so if you are okay, you can stop it from calling emergency services. Nine smartwatches offer this feature.
2. Fitness Tracking:
Too often, we neglect to recognize that movement is healthy for all of us, even senior citizens. Activity tracking can be anything from a step counter to mapping out an outdoor walk or run to yoga. Since many smartwatches are water-resistant they can even be used when swimming. You can ditch the old-school pedometer and use your smartwatch!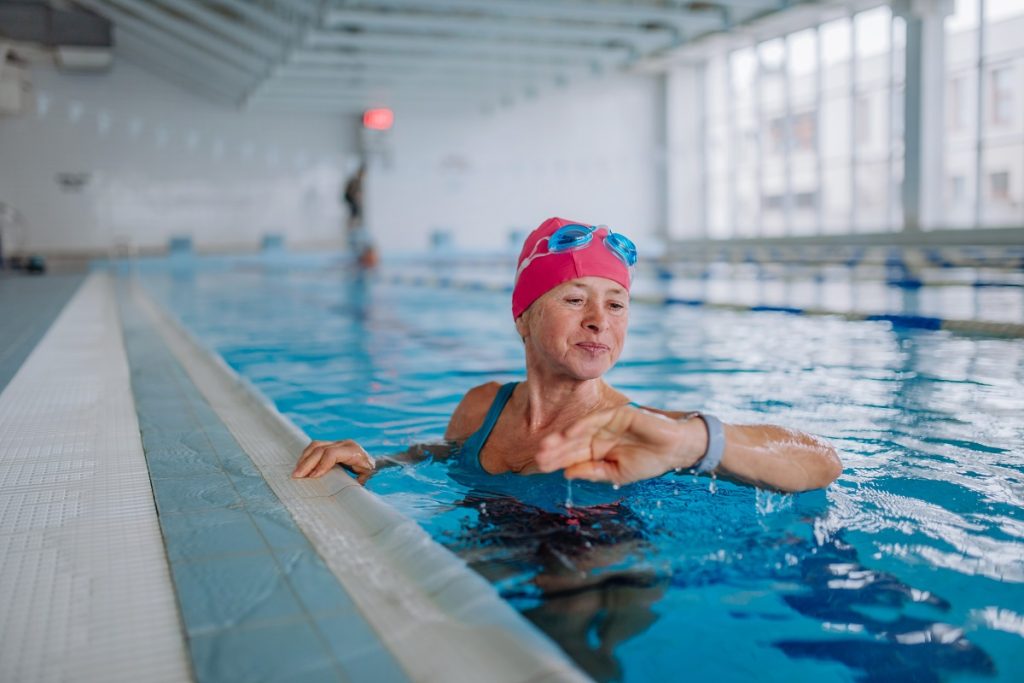 3. GPS Tracking:
A GPS tracker in a phone can help you find someone in real-time.
4. Heart Rate Monitor:
Keeping track of your heart rate can be as easy as having a smartwatch with a heart rate monitor. Although the wrist sensors are not quite as accurate as the chest straps, they will give you a very good idea of your heart rate.
By looking at the watch or data stored in the app, an individual or a caregiver can reviewing the stats.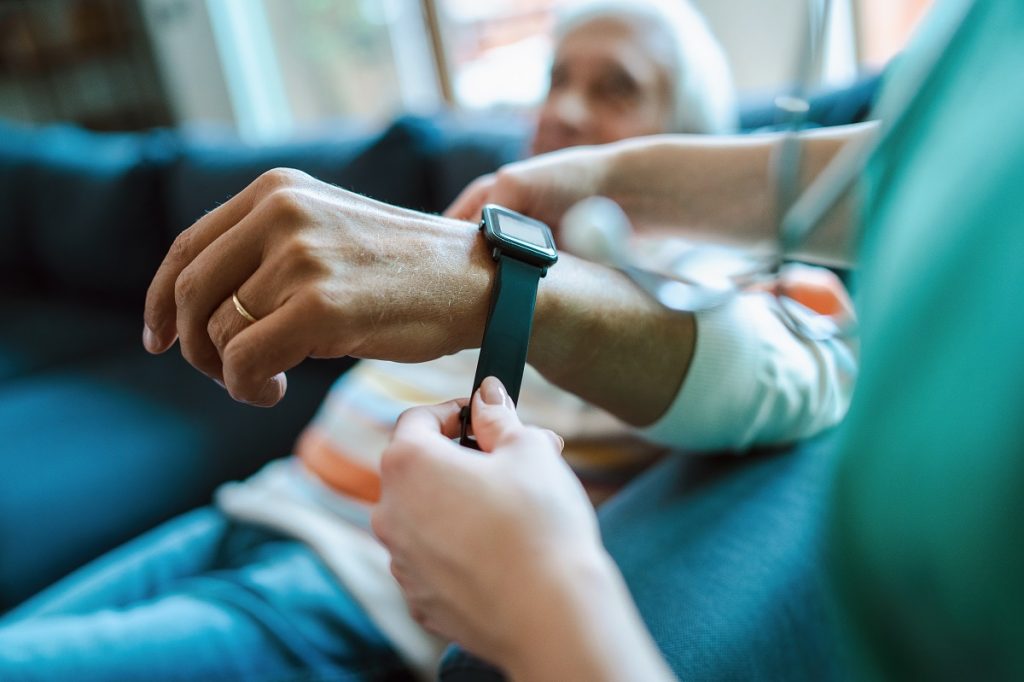 5. Medical Alert System:
Senior citizens have complained about the ugly medical alert necklaces for years, so someone invented a watch that provides that same service. Having an alert on a cute wristband is less noticeable than the unseemly chain necklaces that used to be the only option for seniors. Some watches have an alert as their primary function, such as the WellBe and Bay Alarm SOS Watch, as well as smartwatches that have the added benefit of sending out an emergency SOS.
6. Medication Reminders:
Any smartphone and smartwatch can offer medication reminders, which is important for many reasons. Missing essential medications can be problematic.
7. Phone Calls:
Some smartwatches with a data plan can make a phone call from them, which is helpful in the event of an emergency. Family members will enjoy the peace of mind of knowing that if mom falls and cannot reach a phone, she can call for help from her watch.
7. Reminders:
Reminders are not just for medications! Some elderly people forget to lock the doors at night or perform other tasks that we take for granted. Setting reminders can make forgetting a thing of the past.
8. Sleep Tracking:
Interested in sleep monitoring, either for yourself or your loved one? Many watches have the ability to be sleep trackers.
9. SOS Button:
Many watches have an SOS button that can be pushed in the event of an emergency.
Will Medicare Pay For A Smartwatch?
Original Medicare parts A and B will not cover medical alert systems. Some private Medicare Advantage plans might provide medical alert systems in the event of people having certain health-related issues.
Some insurance companies that offer Medicare Advantage Part C will cover part of the costs of the watch as a fitness tracker. Your best bet is to contact customer service at your insurance plan to see if they cover all or some of the costs for you.
Which Are The Best Senior Watches?
When determining the best smartwatches for senior citizens, you need to determine a few things:
How tech-savvy is the user? Older adults are sometimes not very tech-savvy, so you want to make your choices accordingly.
What do you want it to do? This is a crucial question to ask yourself. Be sure it does everything you want. Don't pay for bells and whistles you don't need, but don't assume your loved one can't handle the technology without asking questions.
What is your budget? These devices run from very inexpensive to quite costly.
What does the watch need to interface with? Some watches, including some Fitbits, have apps for either operating system.
What Watch Will Call 911 If You Fall?
The Apple Watch Series 4 or Apple Watch SE is made to detect a hard fall. After the fall is detected, it sends a message to the wearer. Notifications include tapping you on the wrist and giving you a moment to stop it from sending out an alert. Unless you specifically tell it not to, it then calls emergency services (911).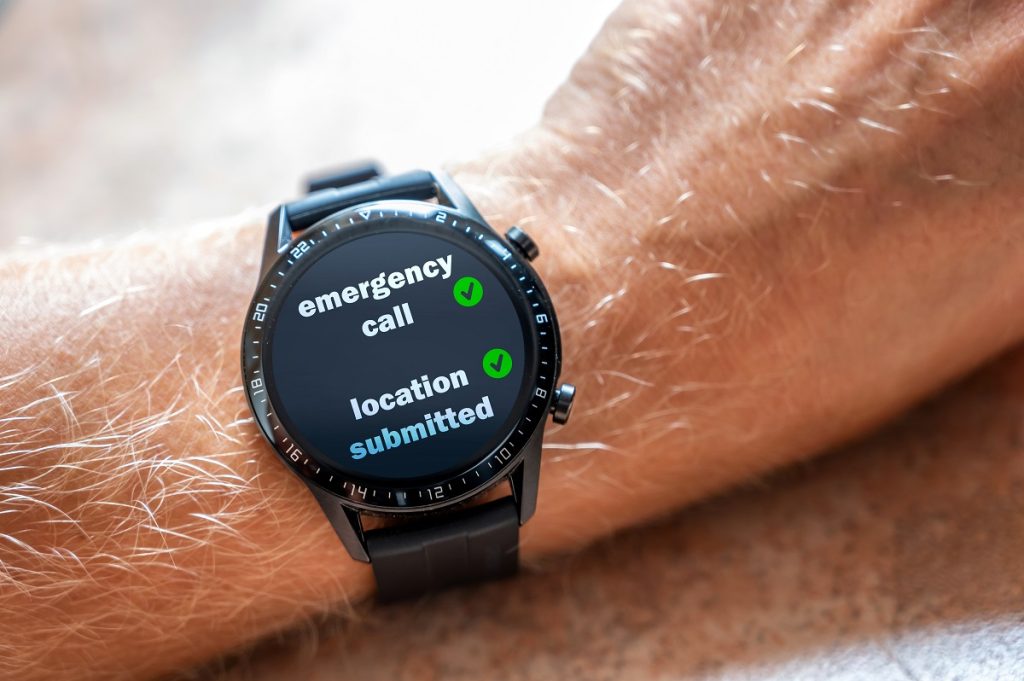 Which Watch Is Best For Blood Pressure?
Although multiple smartwatches include health monitoring features such as the ability to check your blood pressure, the Fitbit Ionic is widely considered one of the best for this purpose. In addition to checking heart rate and blood pressure, it also doubles as a fitness tracker and is user-friendly for non-tech-savvy seniors.
What Watch Is Best For Low-Vision Seniors?
The Apple Watch Series 7 has the ability for the wearer to zoom in on any screen, a perk for senior citizens who are experiencing vision loss. The Samsung Galaxy Watch 5 also has the zoom feature. Another watch helpful to those with vision limitations is the Gososa Talking Watch.
Which Smartwatch That Seniors Love Is $49
Seniors selected to participate in an Apple heart study can get an Apple Watch for the low cost of $49! The study is a cooperative effort between Johnson & Johnson and Apple. The study has determined that the Apple Watch could accurately detect atrial fibrillation. The study is to explore the potential of watches to identify potential heart problems and reduce the likelihood of a stroke.
Prior research with Apple watches showed it was excellent at detecting atrial fibrillation, but many participants dropped out of previous studies.
Participants who do not want to invest the $49 can use an Apple watch they have or borrow one. But – $49 is a steal for an Apple Watch Series 5 that retails for $399.
Called Heartline, the study is hoping to work with 150,000 participants over multiple years. Participants must agree to share their Medicare claims data throughout the study.
While the most prominent smart watches are well over $100, seniors can find bargains on less-known brands that offer at least some of the features of the big names.