Elderly parents can be picky and hard to cook for, especially if their health has deteriorated, they aren't hungry, or they have dental issues. They may reject fruits and vegetables in favor of carb-loaded snacks. You can develop a food plan that incorporates what they like into a health menu.
Too often, older adults skimp on cooking healthy food in favor of quick, cheap, and easy items they can grab and go. Whether you are a caregiver, a concerned child, or a caring neighbor, helping your loved one find a mix of comfort food that is also healthy eating can be challenging.
Experts note the obvious. Eating habits need to change to ensure a long life. It can be hard to encourage a senior to change – or even to make the changes themselves.
What Are Some Tips For Cooking For Elderly Parents?
Looking for tips for cooking for elderly parents? Family members can facilitate healthy options for older people with some easy changes.
Food Preferences: Listen to your loved one and incorporate their favorite foods into the menu.
Heart Healthy Choices: Keep the options as heart-healthy as possible. Examples include cooking in olive oil, snacking on nuts, and choosing fish with omega-3 fatty acids.
Lean Protein: Even if mom or dad grew up on red meat, try to steer them toward lean protein sources such as white meats, fish, black beans, eggs, etc.
Meal Preparation: Meal prepping for elderly parents can make it easier for them to eat healthy. Couple that with some easy recipes, and mealtime is a snap.
More Fruits and Vegetables: Since 50% of a senior citizen's diet should come from fresh fruits and veggies, add more of these to the meal plan.
New Recipes: Finding new recipes can make mealtime enjoyable again. Older people often lose their appetites, so new meal ideas could get them eating again.
Prep the Food: Prepping the food ahead of time can get mom or dad to grab healthy food rather than cookies or chips.
Softer: If mom or dad has dental issues or other reasons it isn't easy to chew, stick to softer foods. This does not have to mean mushy!
How Can You Add More Fruits And Vegetables To Their Diet
Looking to add more fruits and veggies to your loved one's diet? There are some easy ways to do that!
Add Veggies: People are often shocked to hear that you can add vegetables to many familiar meals. Your favorite lasagna or meatloaf recipe can easily have carrots, green peppers, spinach, or other veggies added. Sometimes, you don't even notice they are in there.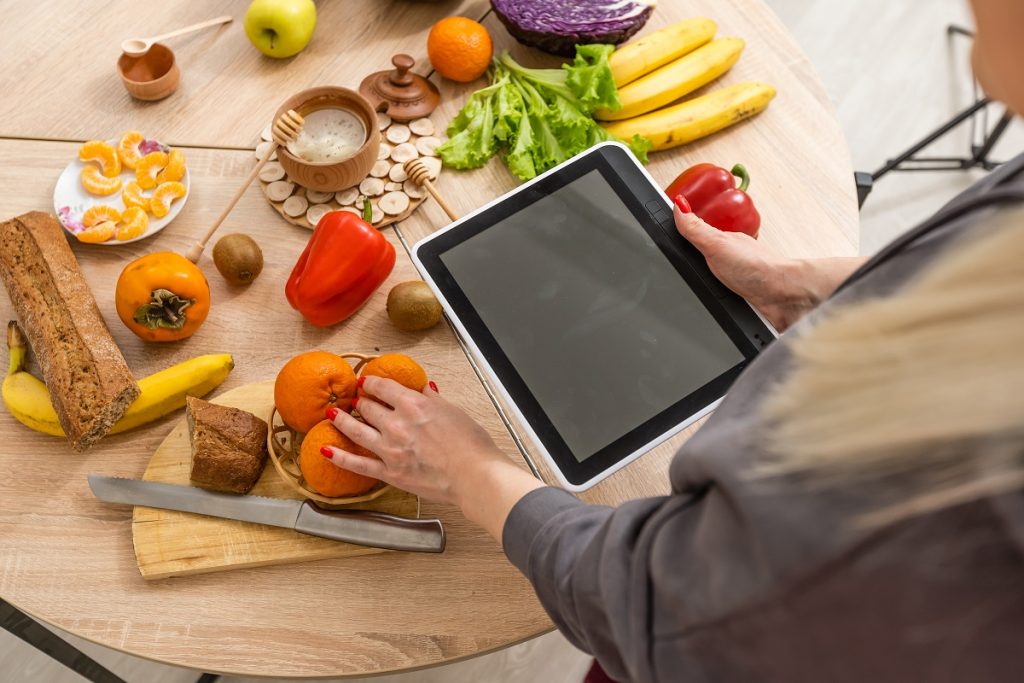 Grab and Go: Keeping fruits and veggies washed, cut, and portioned out makes them accessible for a healthy snack. Let's face it, most of us are more likely to grab veggies and dip if they are ready to go.
Sandwich Accompaniment: Spice up your favorite lunch meat and cheese sandwich by adding a couple layers of lettuce, spinach, tomato, and other veggies. Put your sandwich on whole wheat bread instead of white, and your sandwich just got healthier!
Smoothies: Keep a mix of fruits cut up and frozen so they are easy to grab and pop in the blender. Toss in some spinach, a little greek yogurt, and a touch of ice. Blend, and drink.
Vegetable Soup: Soups are a great way to stay hydrated, as well as get more vegetables into your diet. Veggie-heavy soups can be made vegetarian or with beef, chicken or turkey added.
What Is A Good Dinner For An Elderly Person?
When choosing dinner options, sometimes the best option is to keep it easy. Healthy meals might be as simple as choosing a protein, then a starch, then a couple of vegetables.
Protein sources that are easy to cook include chicken breast, salmon, black bean burgers, and pork chops. Then you may wish to add a starch such as a baked potato, sweet potato, brown rice, or healthy whole grains like quinoa. Lastly, focus on adding a healthy portion of vegetables. This might be sautéed zucchini, fresh green beans, grilled asparagus, or baby carrots.
A side salad to accompany your meal is a great way to make a nutritious meal even healthier, as you get more bang for your buck. Cut fruit is another excellent accompaniment. You can even add a dollop of whipping cream to your fruit to make it more like dessert.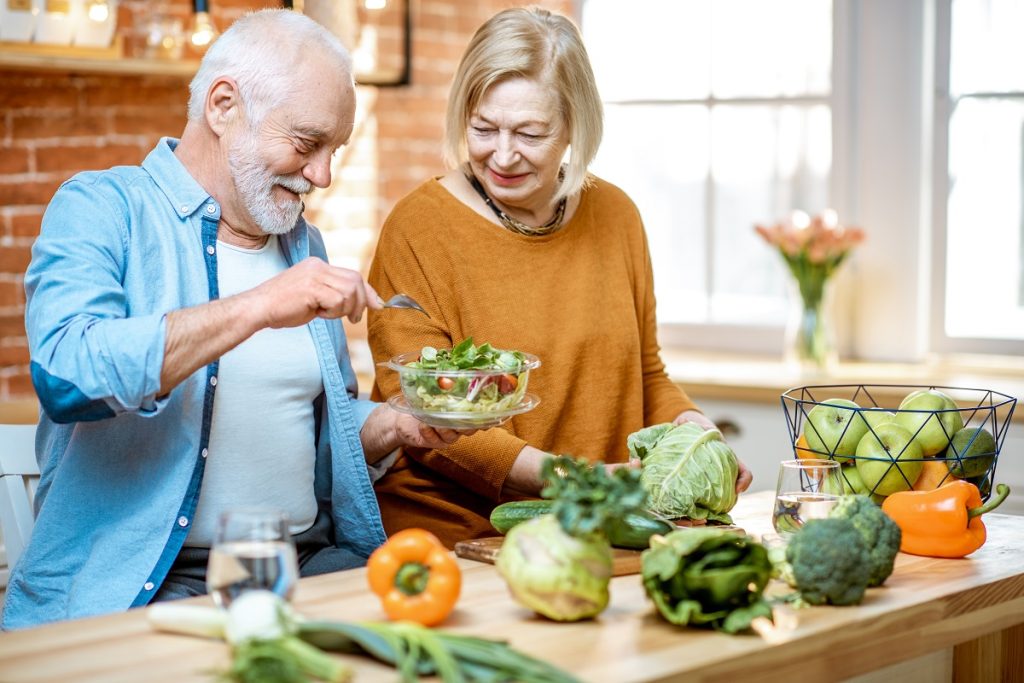 Meal planning is a great way to help steer your parents away from carb-heavy foods. Even though they are easy, handy, and delicious, they are not what is best for your diet.
Foods to Keep on Hand
Are you trying to figure out what to keep on hand for easy meals for mom and dad?
Canned staples such as tomato sauce, diced tomatoes, low-sodium cream soups, etc., are good to keep on hand for throwing together casseroles and easy dishes.
Cheese makes a good snack, but make sure to mix it up. Your taste buds might crave cheddar one day, but then mozzarella or pepper jack the next. Keeping food interesting makes mom and dad more likely to eat it. Buy a variety in small packages!
Fruits like strawberries that you can wash and eat as is are good choices. Keep blueberries, strawberries, raspberries, etc. on hand.
Nut butters are a great source of protein and can be spread on whole-grain bread, celery, or other foods. Almond, cashew, and peanut butter are favorites.
Tortillas are great for making tacos, fajitas, or as a sandwich wrap.
Vegetables should be cleaned, prepped, and easy to grab to eat.
Whole-grain bread items are much healthier than white versions. Whether they crave bread, muffins or wraps, stick to whole grain as much as possible.
What Foods Can Be Prepared In Advance For The Elderly?
Many foods can be prepared in advance for the elderly or anyone. If you are trying to make easy meals for mom or dad that they just have to warm up, here are some hints:
Cook food most of the way but not entirely, so it does not get overdone when reheated.
Don't put large pieces of meat in with smaller items, such as baby red potatoes or vegetables. The meat will take much longer to heat up than the veggies. Larger pieces of meat, such as pork steaks, can be cut into chunks for easier heating.
Package the food in individual serving sizes.
Store in microwave or oven-proof packages for easy reheating.
Favorite Recipes For Elderly Parents
Pasta, Homemade Sauce and Meatballs: This is especially fun to make when bell peppers and tomatoes are in season. If you're looking for some fun cooking with mom or dad that will make the house smell amazing, check out this recipe for homemade sauce that takes very few ingredients.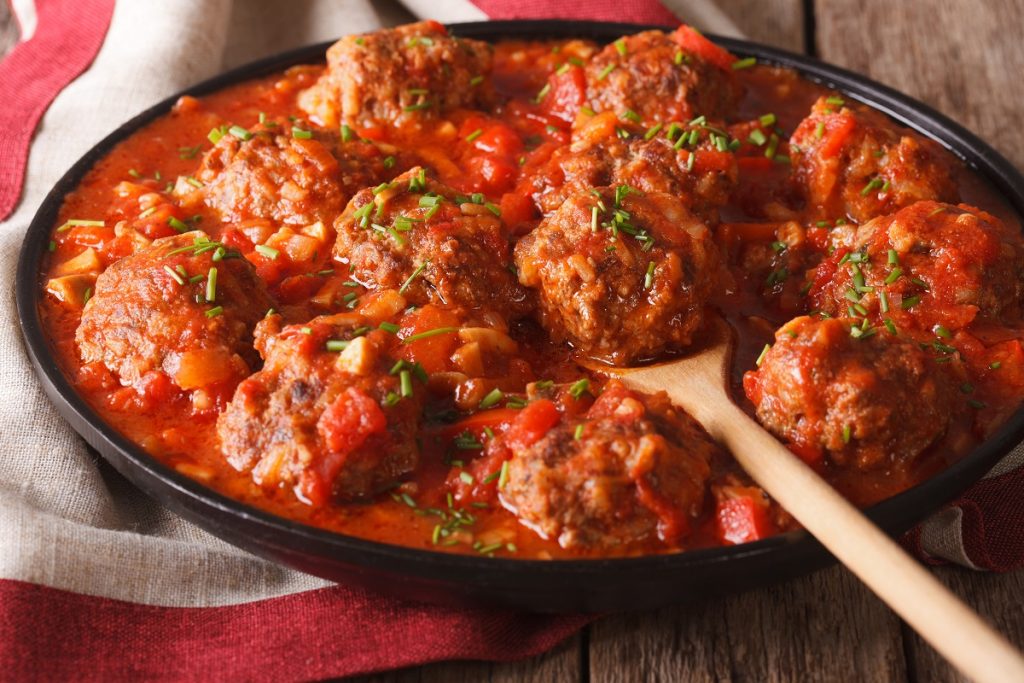 You can make meatballs with ground beef, bread crumbs, a couple of eggs, and parmesan cheese. My favorite recipe calls for 2 pounds of beef, 1/2 cup of breadcrumbs, 2 eggs, and 1/2 cup of parmesan cheese. Mix all of the ingredients together, then add 1 tsp of Italian seasoning and 1/2 tsp each salt and pepper. Form the meatballs and bake them on a greased sheet for about 35 minutes in a 350-degree oven.
White Chicken Chili: This easy white chicken chili recipe is one you can make in a slow cooker. You can make it even easier to make by picking up a cooked rotisserie chicken at the local grocery store. White chili is usually made with chicken and white beans and can be topped with sour cream.
Baked Salmon, Sweet Potatoes, and Roasted Asparagus: Do you have an air fryer just lying around begging for use? One of our favorite meals is to cook salmon in the air fryer. Brush olive oil on the salmon and spray the air fryer pan. Season the salmon with lemon pepper or the seasoning of your choice. Salmon takes 17-20 minutes for a one-pound piece when cooked at 375 degrees.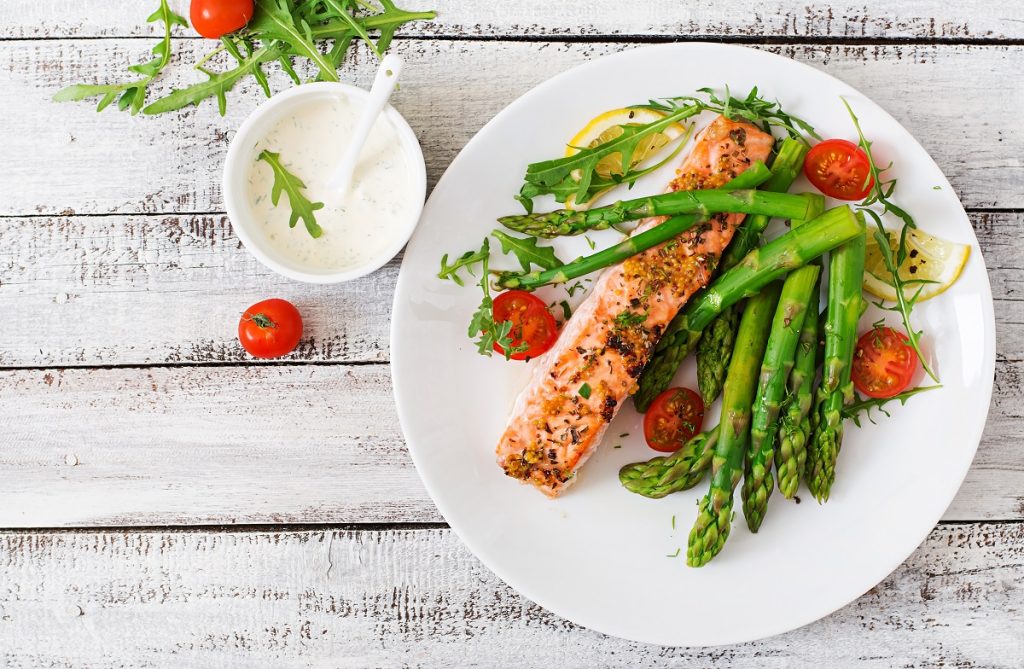 Asparagus is delicious when cooked my favorite way! Toss the asparagus in olive oil, then season with salt, pepper, and garlic seasoning. Aluminum foil a pan and spread out the asparagus, then sprinkle with parmesan cheese. Bake the asparagus at 400 degrees for 11-12 minutes. You can cook the sweet potatoes in the microwave or air fryer, then serve them with a little butter, salt, and pepper.
Chicken and Fresh Veggies: A super easy, simple meal is sautéed chicken and veggies. Add oil to a pan at medium heat. Once the pan is hot, add your chicken. Cook the chicken most of the way, then start to add veggies. The rule of thumb is to add the vegetables that will take the longest to cook and keep adding others until they are all in the pan. For example, start with broccoli, end with mushrooms.
You can add any seasoning you like or even sauces.
Quiche: People are often surprised at how easy it can be to make a quiche. You can start with a frozen or refrigerated pie crust to make things even easier. Quiches are an excellent way to add more vegetables to your diet because they are delicious additions. Here is one of our favorite quiche recipes.