Moving an elderly parent into your home may allow you to more easily give them the care they need at an affordable price. Being a caretaker is not always easy, and you must ask yourself if you can provide the care and support your parents need and afford the cost.
Worried about your elderly parent living on their own? Mom or dad could be becoming more forgetful, unsteady on their feet, or not eating well enough. They may need ongoing care but cannot afford the stiff price tag of assisted living or a nursing home.
Should your home be their next address?
Analyzing Whether Moving A Elderly Parent Into Your Home Be The Best Choice
There are many reasons why moving your parent or parents into your home with you can be a very good idea. As parental needs increase, it can become increasingly difficult for them to function in their own home.
Your home has several advantages for them and you too.
1. More Independence For Them
Moving an elderly parent into your home can be a great way to help them stay somewhat independent.
That might sound contradictory at first because going from living in their own home to yours does not feel independent. However, if they live with you, they may still have more control over their schedule and meals than they would in a facility.
Living in a non-institutionalized setting may make them happy, which is what you want too.
Your parent may fear they are a burden to the family. You can do your best to assure them that you want them with you.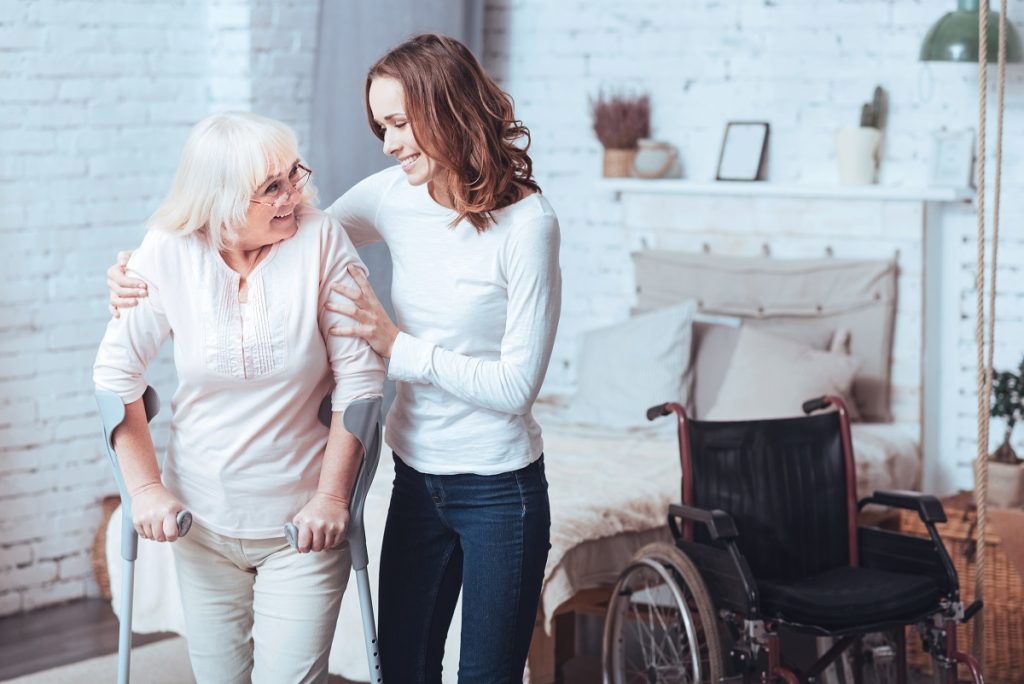 2. Oversee Care
Living together can make it easier for you to oversee your parent's care. This includes everything from medical appointments to meals. However, when they are in your home, it does enable you to keep a handle on scheduling.
Just know that moving mom, dad, or a grandparent into your home is not a decision to be made lightly. Everyone needs to be on board for this to work.
Even if the elder(s) are fairly mobile and lucid when they come into your home, just having more people in the mix means another person's needs and wants must be considered in making any plans for the family. Should their health further deteriorate, the demands on your family's time will escalate.
3. Financial
Moving your aging parents into your home is less expensive than assisted living, even if your loved one requires in-home care. They may even contribute to household expenses.
The expenses of running your household might not increase by the $5,000 to $10,000 that assisted living or nursing care demands, but costs go up for food and utilities when additional people are there. A family that is well off might easily absorb extra costs, but a struggling family may have trouble with increased expenses.
If the parents get to the point where they need home-health care or incur medical expenses beyond what they can pay, you may feel the need to help. Their care needs can quickly add up.
If they need companionship while your work, you can either bring someone into your home or use adult daycare, Daycare services are helpful to people who are at work full-time and don't want to leave their elderly family member home alone all day.
4. Safety and Well-being
Do you worry about your parent taking a fall, leaving the stove burner on, or having some other type of mishap? While that might still happen with your parent living with you, at least you can keep an eye on things and have a greater chance of keeping them safe.
Just as you would baby-proof a home for a newborn, you need to elder-proof a living space for older family members with modifications.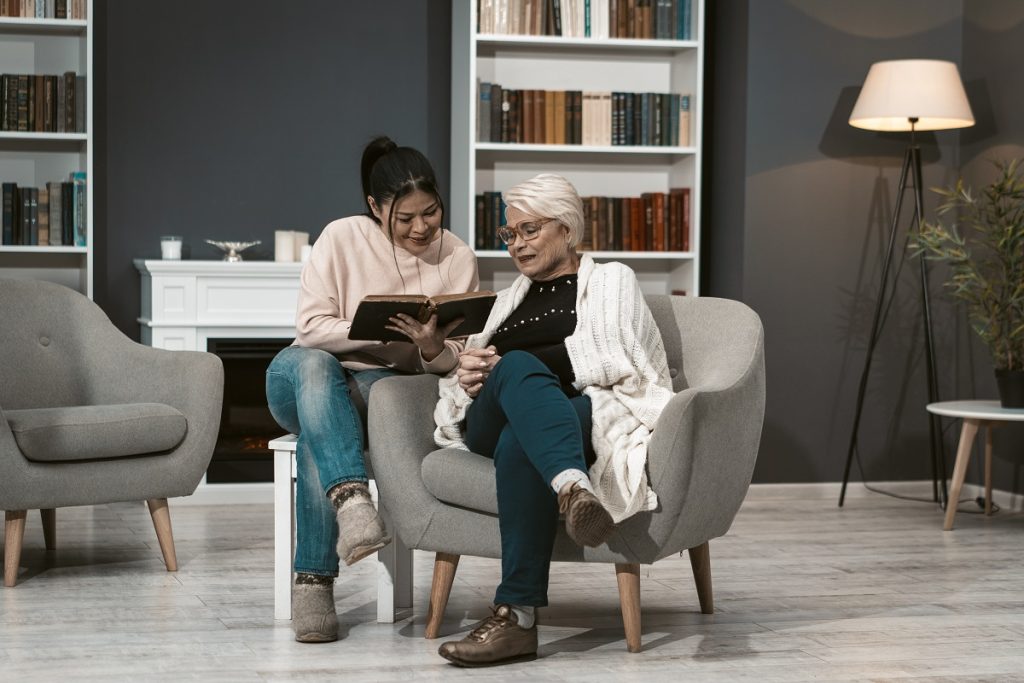 5. Relationship
Having your parent in your home can help you grow closer to one another. If you have children in the home, they can get a chance to know their grandparents.
On the negative side, if you never got along with your parents or have unresolved issues, living together might be difficult for both you and them.
Just know that moving mom, dad, or a grandparent into your home is not a decision to be made lightly. Everyone needs to be on board for this to work.
What Type Of Care Will They Need?
Determining what type of care your loved one needs can be challenging for adult children to figure out. The answer will suggest whether at-home care, no matter how loving, will be enough to meet their needs.
The first step to making any decision is having a conversation with your parent's doctor. Hopefully, your relationship with your mom or dad is strong enough that they will allow you to be part of healthcare conversations.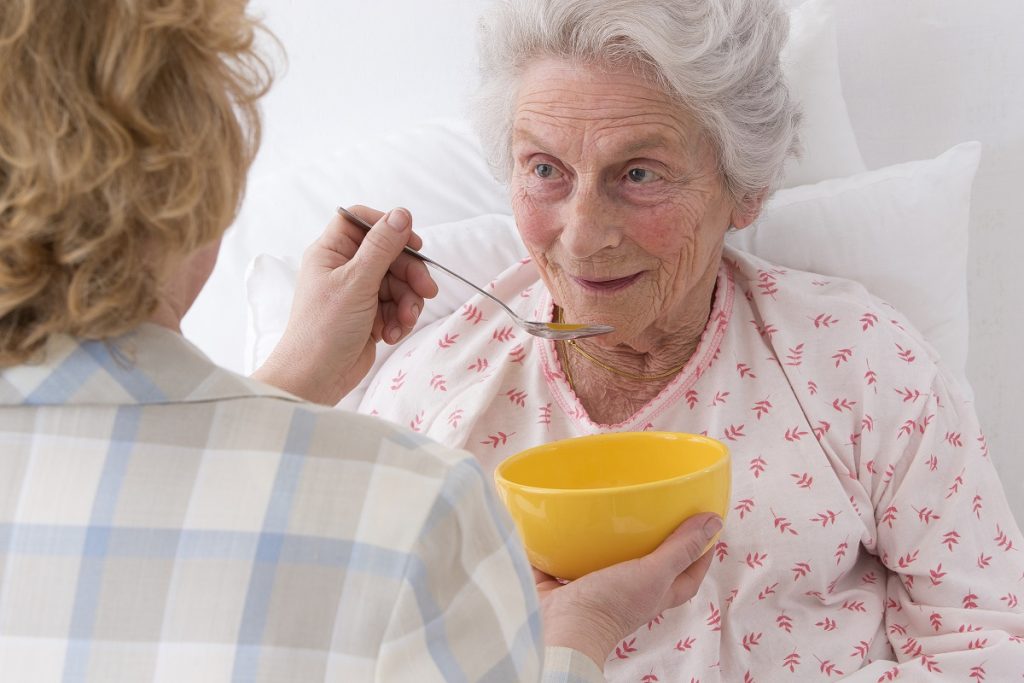 If your parent does not need nursing home care, you might be able to handle things at home. Knowing the level of care they need is crucial to the decisions you will be making as you enter into the new living arrangements. You need to figure out what their needs are and how you can accommodate them. This might include modifying your home, changing your work schedule, or paying for outside help.
Their condition will make a big difference in the demand the new living situation will place on you and your family. Caregiving will be easy if they just need family around for socialization and to help them remember to take meds. If they suffer from a chronic illness, are incontinent, or suffer from mood swings as a result of dementia, caregiving may be hard to manage for adults who are out of the home working.
What Modifications Might You Need To Make To Your Home?
You may need to make certain modifications to your home safe when a parent moves in. Renovations may include:
Grab Bars: Installing grab bars by the toilet and in the tub/shower makes the bathroom easier for mom or dad to navigate.
Ramps: Those confined to a wheelchair will need ramps for entry into the home if there are any stairs.
Doorway Widening: Sometimes, you need to do more serious renovation, such as widening doorways to accommodate a wheelchair or walker.
Addition of a Suite: Another consideration is to add on a mother-in-law's suite, which might be a bedroom with sitting room space as well as a bathroom.
Modifications you make will make it easier for your parents to manage. As they become more sickly and less mobile, you will find that the changes help you as well as them as you try to help them get from place to place within the home.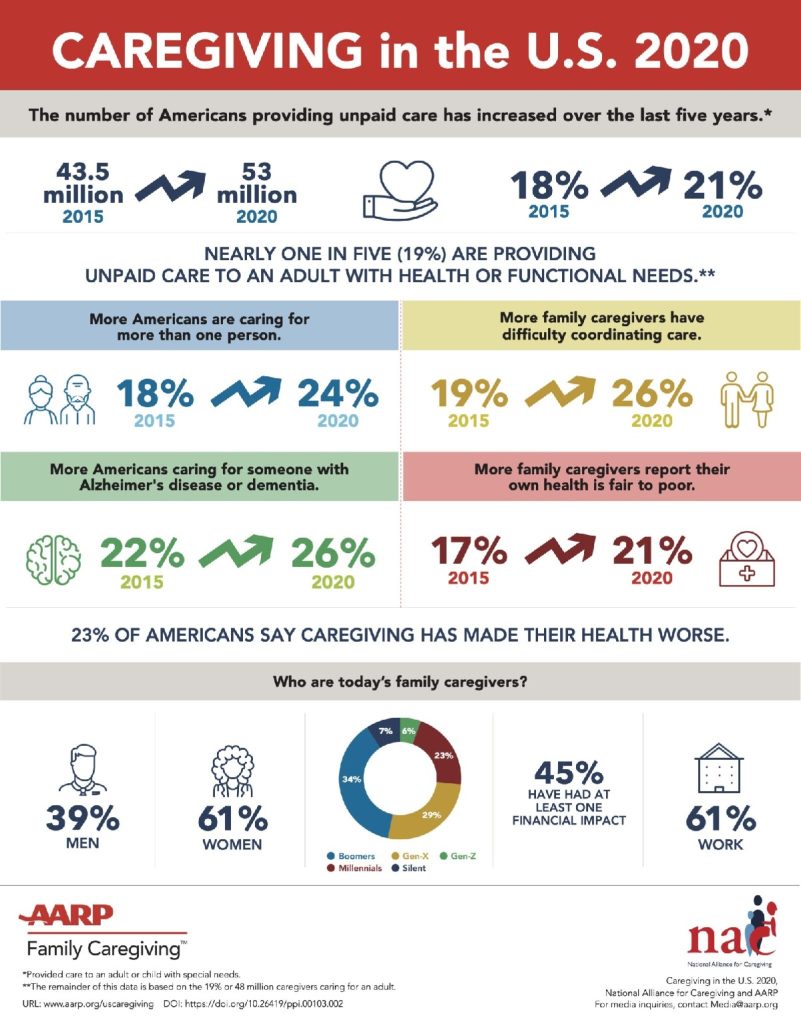 What Are The Challenges Of Caring For An Elderly Parent?
Caring for an elderly parent presents many challenges that can increase as their health decreases.
At first, you and your family must work another person's needs and schedule into yours. You might find yourself taking off work to take them to doctor appointments, cooking special foods to accommodate their dietary restrictions, and helping them with medication, toileting, or dressing.
Leaving mom or dad at home so you can have a social life may make you feel guilty. You will wonder if your parent feels left out. You do have to take time for yourself and other relationships, however. Fortunately, you can call an agency for respite care, but the cost may be high, and your older loved one may resist a different caretaker.
Dealing with chronic illness can cause caregiver fatigue because it is a lot of work. Caregiver burnout is a serious problem that people suffer from. The graphic above from the AARP show why.
Caregiving is on the rise, especially among the Boomer group born between 1946-1964 and Gen-X born between 1965-1980 as their parents reach their 60s, 70s, 80s, and 90s.
Over 53 million Americas were unpaid caretakers in 2020, which is up 10 million since 2015.
1 of every 5 people is caring for at least one adult with health or functional needs. At least 24% care for multiple people.
The burden falls more on women (61%) than men (39%.)
61% of caregivers work outside the home, yet at least 45% have experienced at least one financial impact from caregiving.
21% of caretakers report having fair health themselves, while 23% of caregivers say their own health has worsened.
As those in home care age, so do their caregivers and the pressures on them.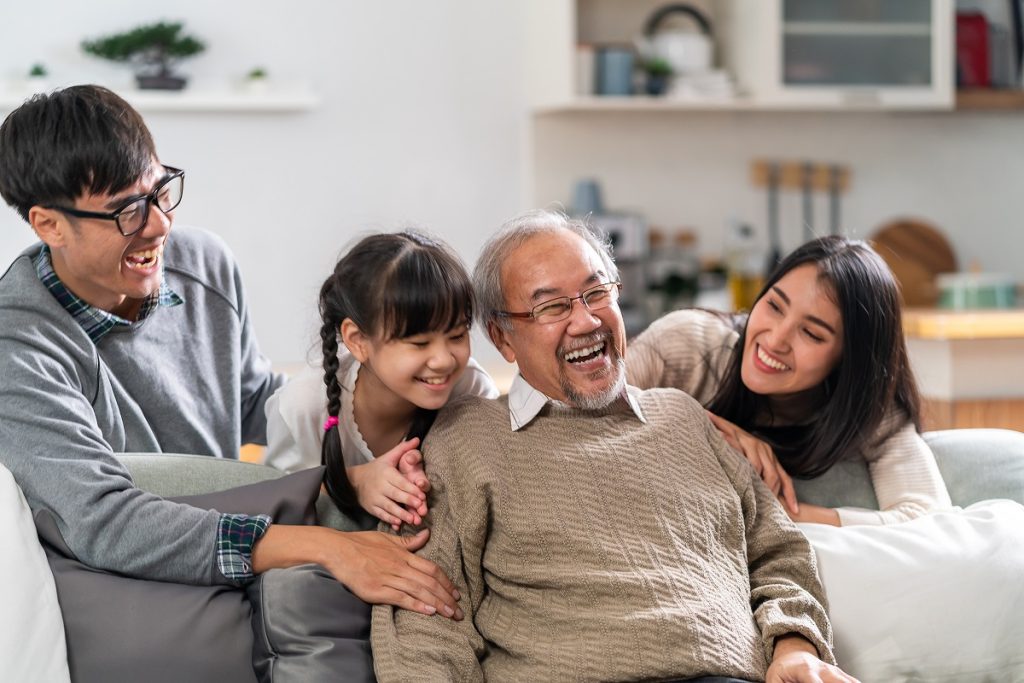 How Will Having Your Parent There Change the Family Dynamic?
How much having parents there will change the family dynamic depends on the relationship you have with your parent and the rest of the family. On the one hand, you may find yourself getting much closer to your parent because you spend much more time together. Your kids may love having an in-house grandparent who spoils them.
However, things can also get complicated.
Helping mom or dad with personal care items can prove embarrassing and may make things tense. Always keep in mind that losing independence is hard for most people.
There may also be jealousy with other family members, especially if your parent contributes financially to the household. Family members who are not taking in mom or dad are less likely to consider the difficulties and may focus on what is being spent. For this reason, you may wish to make certain decisions as an extended family unit.
How Can You Get Help If You Need It?
As a caretaker, you may feel overwhelmed. If you need help, there are services available in the community.
Find your loved one a social network so that they don't feel disconnected from their own friends. This can be anything from going to church to activities at a senior center. Mom or dad's outing can help both them and you. They get time out of the home, and you get a break.
Check out financial aid if you need help with expenses. Medicaid, for example, can help pay for assistance such as a home health aide. Don't hesitate to look into this if you need help with senior care for your elderly parent.
Find support for your caretaker role. There is a great organization called the Family Caregiver Alliance that provides support to family members.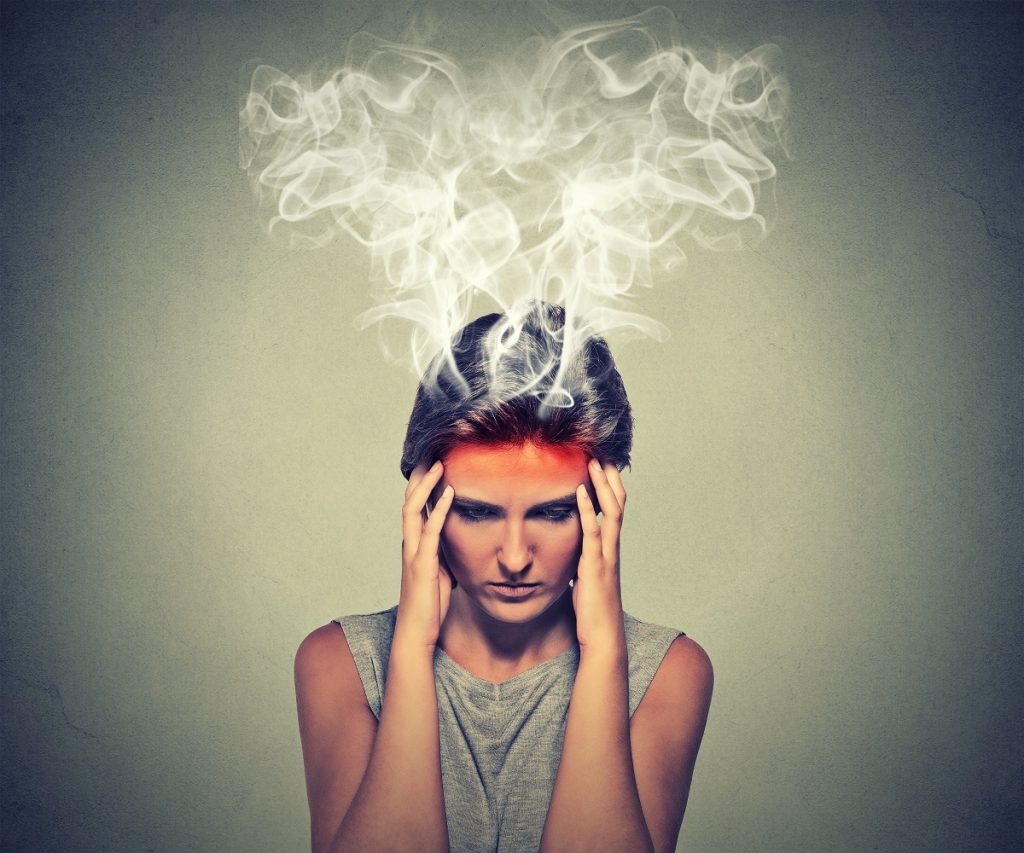 How Can You Avoid Caretaker Burnout?
Professional caregivers feel burnout from their jobs, so those providing care out of love can experience it too. There are keys to avoiding caretaker burnout.
Ask for help.
Take time for yourself.
Take breaks.
Use your resources.
Ask questions.
Take help when others offer.
Don't be a martyr.
When people offer to help you, you need to accept it. If you have family and friends nearby who can help, don't hesitate to ask them. Sometimes if you appear to have it completely under control, people assume that to be true.