When seniors need assistance in making decisions about day-to-day activities and require assistance with most or all daily tasks, they need Level 4 care. They have a frequent need for unscheduled personal assistance and even need enhanced assistance to participate in social and rehabilitation programs.
Some seniors can live independently, while others need caregivers' support to enhance their overall well-being. The level of care that older adults need depends on their health condition and capacity to perform activities of daily living (ADLs). Depending on a healthcare professional's assessment, an elderly may require level 4 care.
What Is Level 4 Care For Seniors?
Also referred to as skilled nursing, Level 4 care is given to seniors with complex medical and care needs. 
If you have a loved one or other family members who need this type of care, know they are eligible to be moved to Designated Supportive Living 4 or 4 Dementia care facilities. These facilities can be stand-alone or part of other senior living options.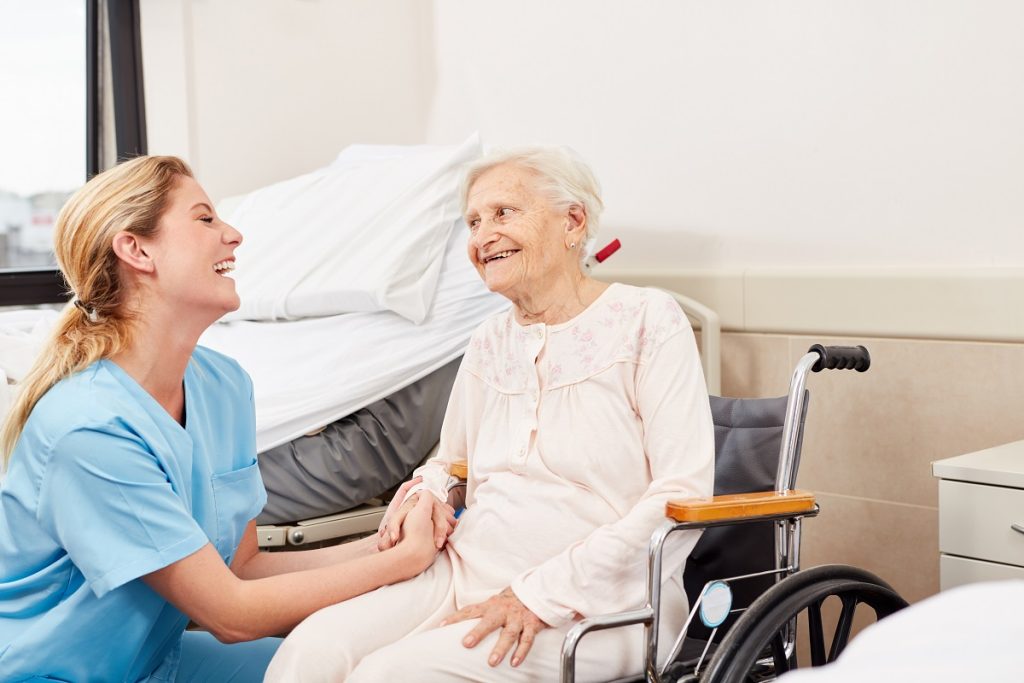 In this setting, a Registered Nurse will direct the implementation of the care plan with the help of an on-site Licensed Practical Nurse, nursing assistants, and health care aides. These trained personnel will provide total assistance in performing ADLs, cater to a resident's unique personal care needs, and supervise the concerned individual in emergencies.
People who receive level 4 care are typically bedridden or require assistance from two persons or a mechanical lift to be transferred or moved. As such, they will need continuous assistance and care services, including:
Medication management
Behavior management
Incontinence management
Bathing assistance
Hands-on meal assistance (or with verbal cues)
Assistance in doing activities and one-on-one visits
Skilled services like physical therapy, occupational therapy, and speech therapy
What Are The Different Care Levels?
Aging adults have different care and medical needs. Especially if they have degenerative diseases like Alzheimer's disease, they would require a higher level of care as their condition worsens over time.
The different levels of care that seniors may need are as follows:
Level 0
At the level 0 stage, seniors enjoy independent living. They won't need intervention from family or staff members to perform ADLs. They can also remain independent in an emergency. However, they can benefit from receiving housekeeping support and participating in socialization activities.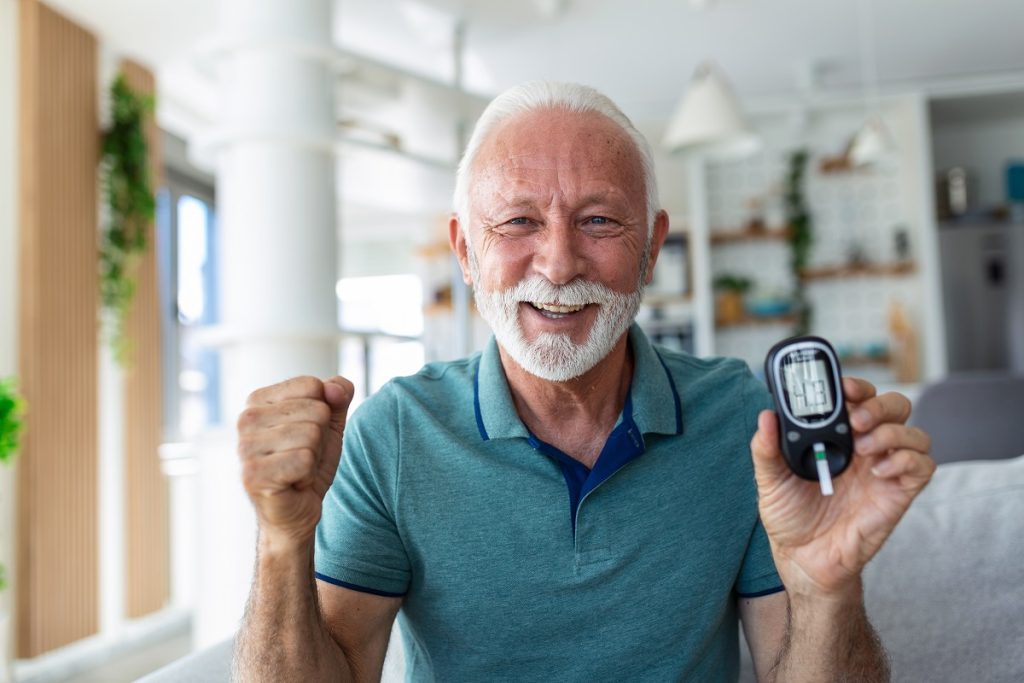 Level 1
Seniors who need level 1 care can still respond in an emergency and independently perform their basic routine, including going to doctors' appointments and taking medications. 
As they may experience small memory impairments, family members can avail of home care services to assist them from time to time. They may also send them to an assisted living facility for peace of mind.
Level 2
Unlike the previous level of care, where minimum assistance is needed, level 2 care offers stand-by assistance to residents of supportive or assisted living communities — especially when walking or transferring from one point to another and in times of emergency.
Residents will also need reminders and verbal cues when doing ADLs as they may suffer from mild memory loss. They also need help with incontinence, medication management, and setting up their bath. Assistance with meals, nutrition, and housekeeping may be helpful but not necessarily needed.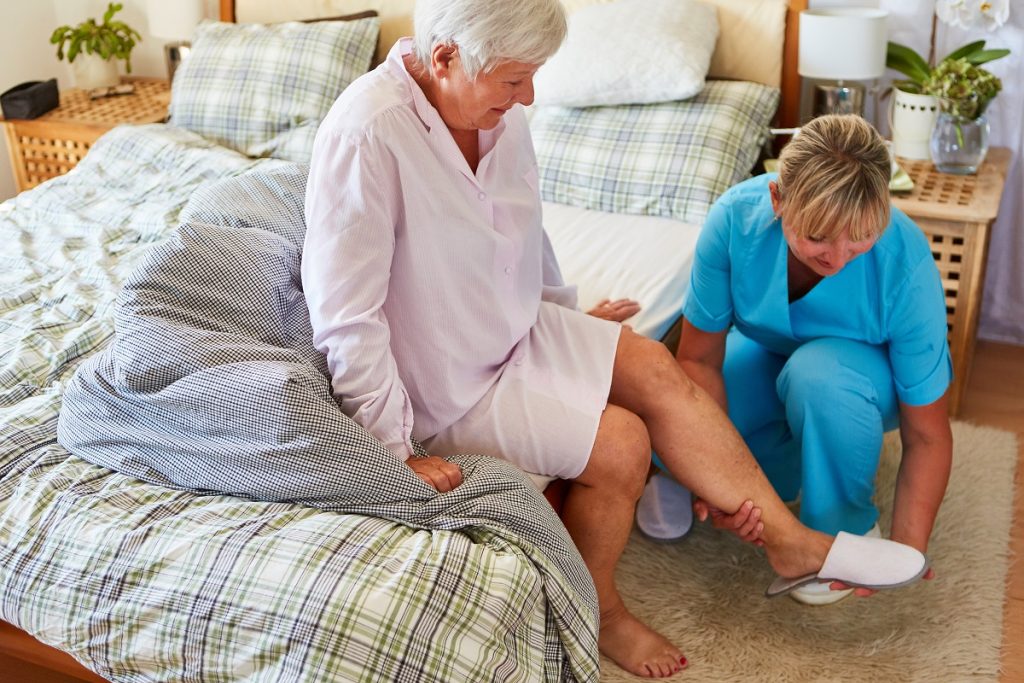 Level 3
At level 3, carers will need to provide verbal cues to hands-on assistance to residents when performing ADLs. They're also there to assist them in emergency cases. Like level 2 care, level 3 care will assist with medication, bathing, and incontinence. Additionally, residents will need assistance when preparing and taking meals and doing housekeeping activities. 
Most people needing this type of care have impaired memory and suffer from mild confusion and poor orientation.
Level 4
People who need total assistance have to receive Level 4 care. This type of long-term care is given round-the-clock. Apart from personal hygiene and medical care, they will also need other professional care services, as mentioned in the previous section.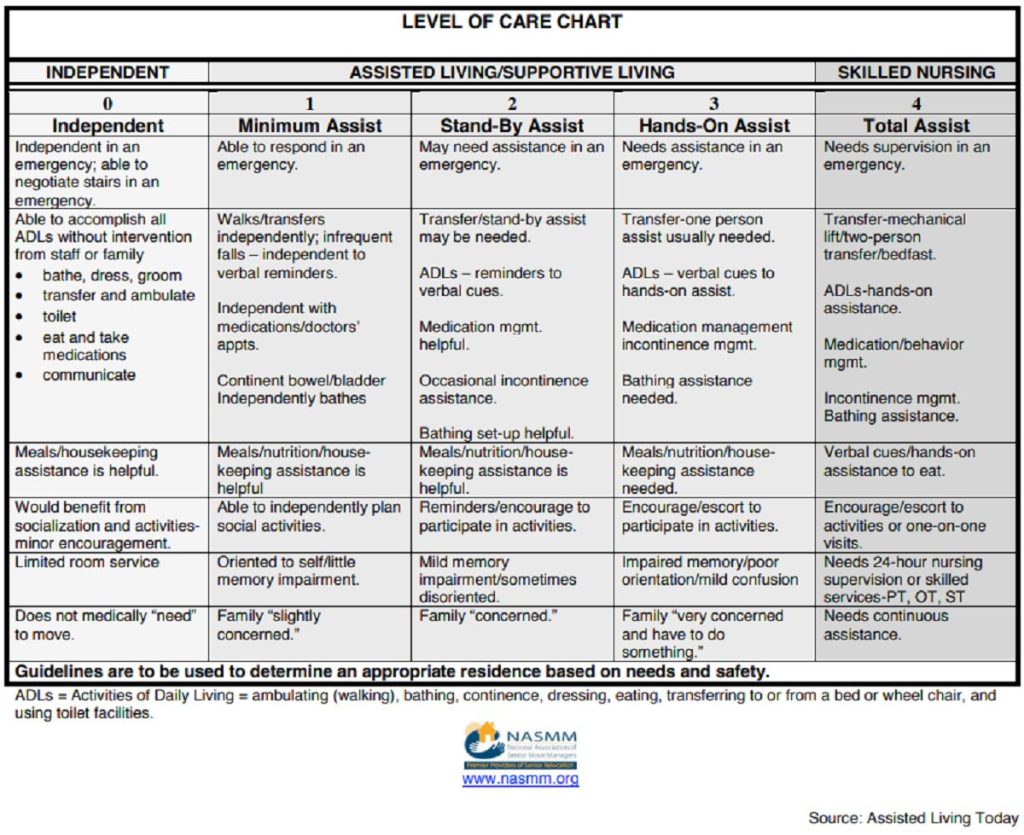 How Do You Determine The Level Of Care For The Elderly?
As there are various care options under senior care, it's essential to determine the appropriate kind of care that will be given to a certain aging individual.
This will help family members determine whether their loved one can remain at their own home and receive intermittent or scheduled residential care — or if they have to be transferred to an assisted living facility, nursing home, or any other retirement communities.
The determining factors include:
Medical conditions and needs
Dietary requirements
Functional needs
Cognitive needs
Behavioral needs
Existence of disabilities and level of mobility
Extent of need for specialized support (e.g., memory care). A visiting healthcare professional carries out the assessment, and they will use a level-of-care assessment tool to record and evaluate an individual.
What Is The Difference Between Level 4 And Level 5 Care For Seniors?
In a Level 4 care program, seniors receive skilled nursing care. If their condition and cognitive impairment become even more severe — to the point that they become limited or unable to participate in socialization activities and need multiple caregivers — they will need Level 5 care.
They are also mostly at the end-of-life stage, wherein the care plan's goal is to provide as much relief as possible.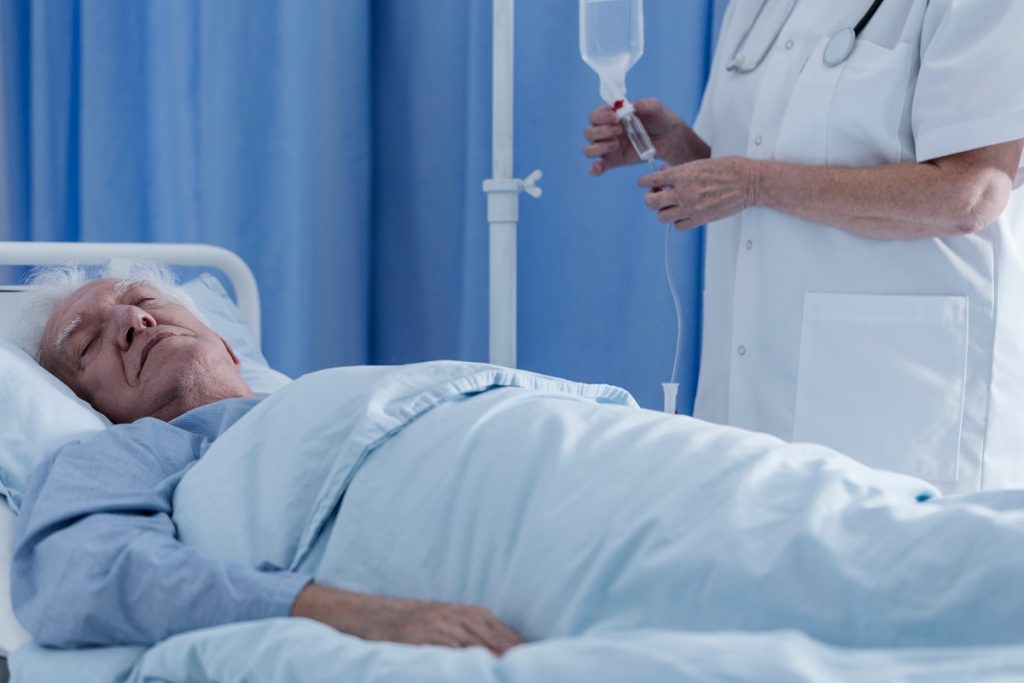 What Is The Highest Level Of Care In Assisted Living?
More than 800,000 Americans live in assisted living facilities. In these living options, residents are generally categorized into three levels of care, the highest of which is level 3 assisted living care.
Also called enhanced assisted living, this type of care means that hands-on assistance is provided to a resident when performing multiple ADLs. Seniors in this facility often have memory and physical impairments that hinder them from functioning independently.
If a professional has assessed that an assisted living resident needs a higher level of care (i.e., Level 4 care), they will need to be transferred to a more specialized unit or a nursing home where long-term care services are provided more extensively.
What Is Nursing Home Level Of Care?
Compared to home care, senior living communities that provide short-term care, and assisted living, nursing homes offer the highest level of care. If needed, a resident can receive therapy services and memory care. They also have the least home-like atmosphere though they offer residents socialization opportunities.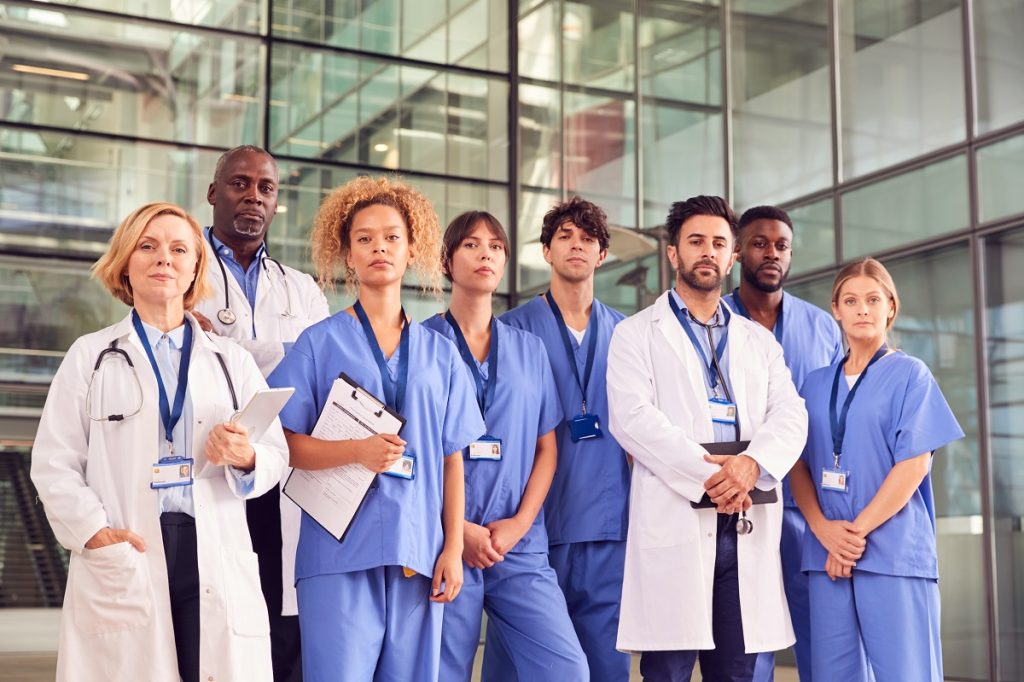 As the level of care intensifies, the pricing and expenses incurred also increase. In 2021, the monthly median cost of a private room in a nursing home was around $9,000 — double the cost of that of an assisted living facility.
Like other long-term care communities, nursing homes aren't covered by Medicare. But the majority of them do accept programs like Medicaid. For a person to be eligible for Medicaid-funded nursing home care, they will have to be formally designated with a level of care called Nursing Home Level of Care (NHLOC).
How Does This Vary By State?
The assessment tests and tools for NHLOC varies from state to state. If you've been eligible to receive NHLOC per an assessment in Massachusetts, it doesn't necessarily mean that you will get the same assessment in California.
The differences mostly lie in how points are allocated to a certain determining factor (e.g., in one state, having troubling behavior may warrant 3 points while it may only be equal to 2 points in another state).
However, as a general guide, NHLOC is given to people who can't look after themselves for medical, cognitive, behavioral, or functional reasons. They need continuing care so that they won't put themselves in danger.
Can Level 4 Be Handled At Home?
Many older adults wish to age in place and prefer to receive in-home care no matter the level of care they need.
As stated, Level 4 care is more extensive. Skilled nursing facilities have a safer and better-equipped environment where bespoke medical and personal care services can be provided 24/7. Residents also benefit from the social activities and life-enriching programs designed and facilitated by trained professionals and staff.